(Business 2.0 Magazine) -- Surf this: The potential market for wave energy -- electricity generated by offshore turbines -- is worth a staggering $1 trillion worldwide, according to the World Energy Council, a nonprofit research organization.
In the United States alone, wave technology could supply 6.5 percent of the nation's energy. No wonder, then, that startups are rushing to stake claims before someone else drops in on the best waves.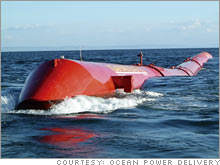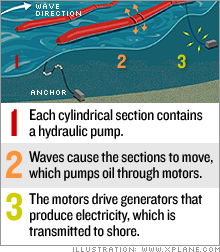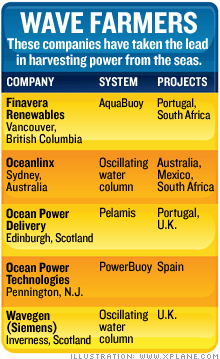 So far, most of the action is taking place overseas, where government incentives and greenhouse gas limits are creating oceans of opportunity.
Take the Aguçadoura pilot project in Portugal. This fall, Ocean Power Delivery of Edinburgh, Scotland, will begin sending electricity to 1,500 homes on Portugal's north coast from a wave farm floating three miles offshore.
The project combines OPD's advanced Pelamis technology (see diagram) with a regulatory insider -- in this case, the local utility -- all funded by private investors. The project is expected to eventually power 15,000 households.
"The ocean offers a massive energy resource that's virtually untapped," says Max Carcas, OPD's business development director.
U.S. energy experts agree. "The natural processes of the ocean produce a denser, more concentrated form of energy than either wind or solar," says Roger Bedard of the Electric Power Research Institute, a Palo Alto-based nonprofit. And unlike solar energy, wave power is there 24/7.
So far the market's front-runner is OPD, which has a second commercial project in the works off Scotland's Orkney Islands. It has also scored $22.5 million from a consortium led by GE Energy Financial Services (Charts, Fortune 500).
"OPD is clearly a leading innovator in the field," says James Kim of GE Technology Lending, which also worked on the deal.
It's no accident that OPD located its initial projects in Portugal and the United Kingdom.
Both nations have taken the lead in harnessing power from the ocean to comply with the Kyoto Accord's limits on greenhouse gas emissions. Government incentives -- such as paying higher rates for renewable energy -- have jump-started wave energy projects across Europe.
Though the United States lags behind, interest is surging: Federal energy regulators have received nearly 40 applications for water-related energy projects. And with vast sums of money flowing into green energy, Uncle Sam is likely to follow the Old World's lead.
In other words, where there's a will, there are waves.

click here
.