(Business 2.0 Magazine) -- Joel Rheault ducks beneath the steel door of the elevator cage and steps into a freezing rainstorm -- 1,600 feet below ground, at the mouth of a cavernous concrete tunnel. Wind whips the water dripping from his hard hat as Rheault switches on his headlamp, climbs into a Toyota Land Cruiser that's been parked underground, and drives off into the darkness.
Aboveground, where Rheault was munching a doughnut a few minutes earlier, it's another blue-sky summer day at McArthur River, a 21st-century mining town stamped into the foothills of northern Saskatchewan.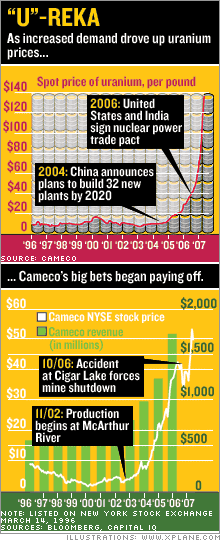 Rheault turns down a steep ramp, then right into a side tunnel, finally stopping in front of a 20-foot-tall wall of dark, jagged sandstone where the underground rain has let up.
A series of round pipes jut out from the wall in equidistant spots, each encased by wavy bulbs of ice. The pipes, which extend some 300 feet into the rock, are filled with supercooled brine that acts as a giant ice pack. Kept at a constant-40 degrees, the brine freezes the water that saturates the bedrock, effectively floodproofing the area so miners can start drilling for the prize inside: high-quality, mildly radioactive uranium.
McArthur River holds 367 million pounds of it, making it the single richest uranium deposit on the planet.
"We call it a freeze wall," explains Rheault, McArthur River's top manager, who is currently trying to cool two new zones to bring them into production.
The more sandstone Rheault and his engineers can deep-freeze, the more the $1.7 billion company he works for -- Saskatoon-based Cameco, the world's leading producer of uranium -- can sell in a white-hot market.
Six years ago the spot price of a pound of processed uranium ore, or yellowcake, was less than $10 a pound. Today it has soared to more than $130, and some analysts see it going even higher.
Which puts little-known Cameco (Charts) and its CEO, Jerry Grandey, in position not just to scoop up easy profit but to grow into a blue-chip energy company on par with giants like Entergy (Charts, Fortune 500) and PG&E (Charts, Fortune 500).
Uranium's sudden status as the world's hottest commodity -- surpassing the spectacular runs on steel, gold, and silver -- is fueling even more speculation about the global market it serves: nuclear power.
Most of the world's 434 nuclear power plants already get their fuel from companies like Cameco, but the demand curve is due for a radical shift. Worldwide, more than 30 new nuclear plants are already under construction. And 200 others are in various stages of planning, including 49 in the United States, where the last new plant was approved in 1979.
As energy demand rises and costs escalate, and as pressure mounts for developed countries to rein in CO2 emissions, many see nukes as the only scalable means of churning out cheap electricity and putting a dent in global warming at the same time.
That's one reason hedge funds and other investment firms, which wouldn't touch uranium as recently as two years ago, have snapped up more than $1 billion worth of the radioactive stuff during the past year.
Cameco already accounts for 20 percent of worldwide production, owns the world's biggest uranium refinery, operates a handful of conversion factories, and sells the finished fuel rods. Its customers include more than 20 utilities around the globe.
Beyond those assets is a veritable gold mine of untapped reserves. Sixty miles north of McArthur River, several hundred Cameco workers are busy prepping another site, called Cigar Lake, to open in 2010. Part of a $500 million joint venture with French nuclear power giant Areva, Cigar Lake holds the most highly concentrated uranium reserves in the world -- and at 226 million pounds, its size ensures that Cameco's 20 percent market share is only headed north.
Silver-haired Grandey is the unlikely wizard behind this next-gen energy company. He got his start in the 1970s as a long-haired public interest attorney working to shut down some of the nuclear power plants that now make up his biggest customers.
His conversion into a nuclear power player, he says, evolved out of a long-held belief that the promise of the technology is sound and that the safety issues he took on as a young lawyer have been addressed.
Grandey has backed up his convictions at considerable risk: He quietly built up Cameco during a long and painful down market, when few others believed that nukes would ever be part of energy's future. "When the world wakes up and rediscovers nuclear," says Grandey, prepping for a meeting in his Saskatoon office, "there is going to be a segment of the investing world that asks, How do I invest in nuclear? We want the answer to be Cameco."
A black bear trundles across McArthur River's lone airstrip and off into the trees as a chartered turboprop carrying a fresh load of Cameco miners and engineers noses in for a landing. About 20 flights per week bring workers from a handful of pickup spots between here and company headquarters in Saskatoon, 385 miles south.
Each plane carries as many as 44 people, who live in dorms during weeklong shifts before returning to their homes in small aboriginal villages and medium-size towns with names like Uranium City, Fond du Lac, Stony Rapids, and Buffalo Narrows.
Geologic happenstance filled this part of Saskatchewan, known as the Athabasca Basin, with the world's highest-grade uranium ore -- rock that's 21 percent uranium, compared with an industry average of 0.15 percent.
The region in which the majority of Cameco's reserves lie has been called the Saudi Arabia of nuclear power, and Grandey is its crown prince. As Fadi Shadid, an analyst for Virginia-based investment bank Friedman Billings & Ramsey, puts it, "Of the publicly traded uranium companies, nobody is anywhere near the scale of Cameco. They are by far the biggest and baddest."
Grandey, naturally, occupies the big corner office at Cameco's brick-faced headquarters in Saskatoon, but the views don't exactly scream Fortune 500. In the distance are several large petrochemical tanks. Down the street is a big meat-packing plant; around the corner is the Arrowhead Taxidermy shop.
Raised in Long Beach, Calif., Grandey, now 60, studied mining at the Colorado School of Mines. He thought he might like geology, but a flair for math led him to geophysics. This was during the late 1960s, however, and Grandey was more interested in politics and changing the world than in digging for rocks.
"I didn't want to sit around looking at seismic records the rest of my life," he says. After a two-year stint in the Army, he grew out his hair, sported a beard, and started law school at Northwestern University in Chicago.
During his first year, Grandey worked part-time for a public interest law firm, helping one set of plaintiffs with a lawsuit against U.S. Steel over pollution from coke ovens and working with another set who opposed the licensing of nuclear plants around the Great Lakes.
Grandey says he has no regrets about working for people who were trying to stop nukes. "We weren't sitting in cranes or climbing cooling towers," he says. "We were taking on important issues, like what happens in the case of large pipe breaks and accidents, and thermal pollution in the lakes. It wasn't like I was religiously opposed to nuclear. But I'm proud that we forced utilities to rethink some of the assumptions that were being made about the layout and the engineering of nuclear plants."
Grandey returned to Colorado after passing the bar in 1973, eventually taking a job as general counsel for Denver-based Energy Fuels, a mining company with interests in coal and uranium. At the time, the uranium market looked as promising as it does today: Prices had zoomed from $6 per pound to $40 as new plants around the country came online.
As Energy Fuels's top attorney, Grandey was fast learning the art of the deal, since uranium was a handshake business, as it still is now. Grandey wound up brokering deals with Swiss, German, and U.S. utilities to acquire more mines and mills.
Disaster struck in 1979, with the partial meltdown of a reactor at Three Mile Island. The bottom fell out of the market, and the price of uranium slid from $40 a pound to $24. After Energy Fuels's founder, Bob Evans, died suddenly in 1982, Grandey was tapped as the new president of the company -- a company that was $80 million in debt, with no cash flow, in a market that seemed politically and financially untouchable.
Undaunted, Grandey began moving assets around and squeezing money from joint ventures with utilities in Europe and Japan, where nuclear was still flourishing. On Christmas Eve in 1983, in order to make payroll, Grandey showed up in the lobby of a Union Carbide subsidiary, hoping to sell a 40 percent share of a uranium mill for $20 million.
Grandey swore he wouldn't go home until he had the cash; by midnight he had a deal. "I felt like I had died and gone to heaven," he says. Energy Fuels survived the next year -- and by 1985 had become the top U.S. uranium producer, turning out 5 million pounds per year.
Despite the accidents at Three Mile Island and, in 1986, Chernobyl, nuclear remained the world's fastest-growing mode of electrical generation throughout the 1980s. Far more disastrous, ironically, for players like Energy Fuels was the fall of the Berlin Wall in 1989, after which hidden inventories of weapons-grade uranium began flooding the energy market, pushing prices below $10 a pound.
The supply that everyone thought would come from mining was coming instead from dismantled weapons. Grandey chose this moment to bail out of the mining business, selling Energy Fuels in 1990 for some $75 million.
But three years later he was back in, this time hired to help steer Cameco out of crisis. Created in 1988 by the merger of two government-owned uranium producers, Cameco had gone public in 1991. It sat on some valuable reserves but was top-heavy with bureaucrats and ill-equipped to react quickly to either big opportunities or problems.
Reeling from the onslaught of Cold War-era uranium, CEO Bernard Michel asked Grandey to help put the company back on a growth track.
Once again the dealmaker went to work: Before he had unpacked, Grandey was in Moscow with a delegation of industry officials, helping to broker an agreement whereby the Russian government would parcel out its weapons-grade uranium in small quantities -- and allow Cameco and a handful of other companies to broker the sales.
During this period, Michel and Grandey saw a chance to channel their inner Warren Buffett. With prices tanking, and politics dampening the market even further, the pair convinced board members and shareholders that it was the perfect time to buy low.
If they started buying mines and refineries now, they would be sitting pretty when the long-awaited nuclear "renaissance" began in earnest.
So, while other top uranium producers like Power Resources and Uranerz sold or folded altogether during the 1990s, and with prices stalled out around $10 a pound, Michel and Grandey poured every dollar they could raise or borrow into an $800 million buying spree.
"When nobody wanted uranium assets, we acquired every decent property in Canada, Wyoming, Nebraska, Kazakhstan, and Australia," Grandey says.
During a five-year stretch, Cameco worked to lock down assets at McArthur River and Cigar Lake, purchased the company's first stake in a power plant, and watched as sales began to take off with European and Asian utilities. By 2003, Cameco's revenue had hit $778 million and Grandey was appointed CEO.
"When the industry was in the doldrums, Jerry was a go-getter and pushed things forward," says Julian Steyn, president of Energy Resources International, a consulting company in Washington, D.C. "Nuclear didn't look like it was going to have a great future unless you were an optimist. Jerry was one of them."
Since then, Grandey's down-market bets have paid off in every way: Cameco's stock has jumped from $4 a share to $54. Profit has gone from $196 million to $353 million on revenue growing from $778 million to $1.7 billion. By late 2006, the moment for nuclear that Grandey had awaited throughout his entire career seemed to have arrived.
Then, again, disaster struck.
One day last October, workers blasting away at the Cigar Lake mine triggered a slide in another section of rock, allowing water sitting above the sandstone to leak through. After 11 days, the leak had turned into an underground river. Mine managers ordered shut a set of bulkhead doors, weighing 10,000 pounds each.
But when they failed to seal properly, miners were left to try to fend off the flood with burlap sacks and grout. As 43-degree water rose to chest level, several miners formed a human chain to pull themselves to a ladder where a hoist cage was dangling to take them and 21 others to safety. Grandey had no choice but to seal the mine and let it flood. All the tunnels, the equipment, the plumbing and electrical work are still underwater.
So great is the future potential of Cigar Lake that within a few days of the accident, uranium spot prices had jumped $6 and Cameco stock had fallen 10 percent. Plans to start mining, which had been scheduled for 2008, were pushed back to 2010.
Grandey was forced to spend more than $200 million to drain the mine and make it safe for future operations. Shareholders demanded answers, and some analysts questioned whether a "lax" corporate culture was to blame.
For Grandey, a potentially fatal accident on his watch was both heartbreaking and humbling, given his roots as a public interest defender and his longstanding reputation as a stickler for safety.
Updates on the progress at Cigar Lake come in daily, and Grandey sets aside time every day to review them. It's clear to everyone that the mine and Grandey's future are inextricably tied. "We made mistakes," he says, adding that the company has since revamped safety procedures and the internal chain of command to make sure history doesn't repeat itself.
Cameco today has a full-time crew of 285 at Cigar Lake working on new ventilation systems and tunnel designs so the site can be reopened by late 2010.
His Cigar Lake briefing over, Grandey now is prepping for a meeting with his mergers and acquisitions team to get an overview of what his rivals are up to and to talk about whether Cameco should be raising its stakes in any of the small mining companies in which it has investments.
Despite the recent setbacks -- and mounting pressure to bring Cigar Lake online -- Grandey is, as always, looking ahead. He's still scouting more plants to buy and looking to expand his mills so they can process and refine the uranium that Cameco and its rivals continue to discover.
He also has a full-time team of 80 geologic rock hounds constantly on the lookout for new sites. His plan is to expand Cameco's presence in every part of the nuclear-power supply chain so that when the commodity boom ends, the company will be sufficiently diversified to ride it out.
And it will end. As Grandey points out, $135 per pound is not sustainable. "At that price more uranium will be discovered," he says. "Just like any other commodity, we will produce more than there is demand, and the price will fall."
When that happens, Grandey wants Cameco to be ready with its long-term contracts, superrich mines, mills, and power-generating capacity to provide the cash flow to do what he did in the 1990s -- gobble up more assets to exploit later on.
"When the cycle turns, we will be in position to buy," Grandey says. "And this time, I won't need to ask a bank for permission."
Michael V. Copeland is a senior writer at Business 2.0.

click here
.