NEW YORK (CNNMoney.com) -- With spa treatments, day care, designer clothes and even special room-service menus, there's no shortage of amenities for beloved balls of fur.
But when families are forced to say goodbye to Fluffy - the $36-billion pet industry falls flat.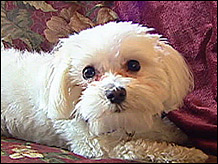 CNN's Gerri Willis shows you how to pet proof your home and pets. (August 5)
Play video

About 63 percent of U.S. households own at least one pet, according to the American Pet Products Manufacturer's Association. But many pet owners are left with few outlets for paying tribute to the life of their beloved dog or cat, aside from a backyard funeral and burial - which is illegal in many areas of the country.
And that's how Paws & Remember built a business. The Fort Wayne, Ind.-based firm, which was founded in 1997, provides memorialization services and products for pets, including cremation, urns and keepsakes, along with training and education to assist veterinary clinics and other pet specialists in helping their clients at times of loss.
"People want some way of memorializing their pet and really paying tribute to a huge part of their family, but they want it to be easy to do," said Randi Binstock, Chief Operating Officer of Paws & Remember.
Paws & Remember offers grief packages like the "legacy," which includes an urn, paw print keepsake and photo album. The "simplicity" includes an engraved birch urn and picture frame. Packages cost between $200 and $500, including cremation.
Despite the fact that the pet industry is ballooning, "what I'm finding is that there has been a demand from these products and services that has gone under the radar screen," Binstock said.
Founder Mark Minnick brought Binstock into the business last year to help turn Paws & Remember into the first national franchise, and set itself apart from the other local suppliers of pet cremation and pet memorial products.
With a few contracts currently in negotiation, the company hopes to have 12 franchises in operation within the next year, concentrated mostly in the Midwest region.
The business lends itself well to a franchising program, explained Binstock, because building a pet crematory is a very capital intensive. The estimated initial investment for prospective franchisees is $286,000 to $542,000. However, the return can also be great. The two locations in Indiana each will approach $700,000 in revenue for this year, according to the company.
Beyond the dollars and cents, launching a franchise business geared solely around death care and memorialization services for Buster and Spot is, by definition, a morbid undertaking.
"I wasn't sure how it was going to be received," Binstock said.
But what she found was that many veterinarians, often unequipped to accommodate grieving customers, welcomed the business idea.
And so have pet owners, who can find solace in securing a final resting place for Cinnamon.
"It really connects the dots in a marketplace where the dots are not connected," said Binstock.