NEW YORK (CNNMoney.com) -- Gap Inc. on Thursday posted second-quarter profits that met Wall Street estimates, helped by the retailer's ongoing cost-cutting initiatives and reduced discounts at its Gap and Old Navy stores.
The San Francisco-based No. 1 clothing chain, which operates Gap, Banana Republic and Old Navy divisions, posted a 19 percent increase in net income to $152 million, or 19 cents a share, compared with $128 million, or 15 cents a share a year ago.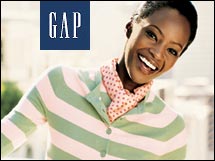 Sales for the period fell 1 percent to $3.69 billion, compared with $3.71 billion for the same period a year ago.
Analysts had expected the retailer to post a profit of 19 cents a share for the quarter on sales of $3.72 billion, according to earnings tracker Thomson Financial.
Gap (Charts, Fortune 500) shares jumped more than 2 percent in after-hours trading after ending Thursday's trading 8 cents lower at $17.40.
By another measure, its sales at stores open at least a year, a key indicator of retail performance known as same-store sales, also fell 5 percent in the quarter. The retailer has suffered more than two years of same-store sales declines amid a series of merchandising mistakes.
The retailer also hired new CEO Glenn Murphy in July.
Excluding charges associated with closure of its Forth & Towne division, the retailer now expects full-year profits to be between 90 to 95 cents a share, up from its previous guidance of 80 to 90 cents a share.
Analysts currently expect the company to earn a full-year profit of 93 cents a share.
"Gap's results were apparently encouraging. But a closer peek suggested the gains were probably the results of a big move to push higher margin products while reducing inventories," Richard Hastings, retail analyst with Bernard Sands, said in a note Thursday.
Tide turning for Gap?
In a conference call with analysts to discuss the retailer's results, CFO Byron Pollitt said the company was "making solid progress in stabilizing the business and streamlining the organization."
As part of the cost-trimming efforts, the company eliminated about 2,200 positions during the first half of 2007. Additionally, Pollitt said the retailer would reduce its company office space by 16 percent this year.
He said the retailer was focused on reducing store clutter, particularly in its Gap and Old Navy stores. Those initiatives led to a 2 percent reduction in inventory last quarter versus the previous year.
"We are still in our turnaround. It's hard to predict how our new products will be accepted given that our largest selling environment is ahead of us and given the macro-economic environment," he said. "But we want to improve our margins and are committed to becoming a more nimble and cost-effective company."
To his point, the fourth-quarter holiday period represents more than 50 percent of retailer's annual profits and sales.
As expected, Murphy faced several questions in his first question-and-answer session with analysts.
Murphy was asked why he thought that his background as former CEO of Shoppers Drug Mart, Canada's largest drug store chain, would make him a good fit at a clothing chain.
"I was looking for a great opportunity to work with a brand. There are three brands here and the customers' challenges here come with an international component to them," Murphy said.
"In Canada, my experience in three retail sectors, food, books, and health and beauty have enough common ground to bring complimentary skill sets to the Gap," Murphy said.
"I did work for a large retailer where innovation and product differentiation were key," he said. "There is a learning curve. So I am spending lots of time in the merchandise and design side and equal time in marketing and making sure that store execution is up to standard and representative of the brand."
Fewer discounts, less clutter
Although Gap stores in July posted a 2 percent same-store sales increase, the company's Old Navy division suffered a dismal 18 percent drop in comparable sales in the month.
Gap executives explained that the sales drop was due to the company not repeating two key discount events that were held in the same month last year, which hurt store traffic but helped improve overall profit margins in the quarter.
Robert Fisher, who was interim CEO until Murphy's hire, said it would remain an ongoing priority at the Gap to improve profit margins.
Regarding new merchandise strategies, Fisher said the early fall products were resonating well with customers.
"Earlier, we were overassorted in khakis and denim. We have reduced our product assortment by 30 percent. So its easier for customers to shop," Fisher said.
Separately, Gap announced an additional $1.5 billion share buyback program. The company said it entered into agreements with individual members of the Fisher family, who own roughly 17 percent of Gap's outstanding shares.
The company expects that about $250 million, or roughly 17 percent, of the $1.5 billion share buyback will be purchased from Fisher family members.