NEW YORK (CNNMoney.com) -- Mortgage rates were little changed on unexpectedly small increases in economic figures, Freddie Mac reported Thursday.
The government-sponsored loan buyer said the average rate on a 30-year fixed-rate loan slightly rose to 6.46 percent for the week ending September 6, 2007 - from 6.45 percent last week.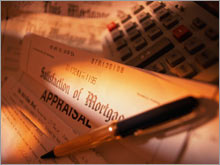 Last year at this time, 30-year mortgage rates averaged 6.47 percent.
Freddie Mac said rates were largely unchanged because the most recent economic news showed smaller-than-expected increases.
"For instance, core personal consumption expenditure price index rose at an annualized rate of only 1.3 percent in the second quarter and July's consumer spending data showed a 1.9 percent gain in the core price index for the twelve months ending in July," Frank Nothaft, Freddie Mac vice president and chief economist, said in a statement.
"In other news, the most recent Conventional Mortgage Home Price Index [CMHPI] release issued by Freddie Mac reported that on average, national house prices grew by 0.1 percent in the second quarter, the slowest quarterly house price growth since the fourth quarter of 1994. For the past 12 months, house prices appreciated 3.3 percent, the slowest rate in 10 years."
In its latest report, Freddie Mac said that rates on 15-year fixed-rate loans averaged 6.15 percent in the latest week, up from 6.12 percent last week. A year ago, the 15-year rate averaged 6.16 percent.
Five-year adjustable-rate mortgages (ARMs) averaged 6.35 percent this week, up from 6.34 percent last week.
A year ago, the 5-year ARM averaged 6.11 percent.
One-year ARMs averaged 5.84 percent this week, up from 5.60 percent last week. They were at 5.59 percent this time last year.