(Fortune Magazine) -- Okay, let's review:
1. Oil prices have hit an all-time high of $80 per barrel and some analysts are predicting a climb to $90;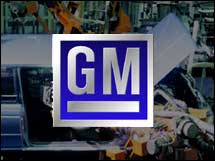 2. The subprime lending collapse is seeping out of housing and into the rest of the economy, dampening consumer sentiment and raising fears of a recession;
3. Analysts are slashing their forecasts for auto sales in both 2007 and 2008.
So why is Citigroup analyst Itay Michaeli predicting a 50% chance that the price of General Motors' stock could nearly double to $57 per share?
The answer is growing optimism about the outcome of contract talks with the United Auto Workers. UAW president Ron Gettelfinger is said to be willing to consider the creation of a union-controlled trust fund to pay health care costs for auto workers. Creation of the trust would remove a huge liability from the balance sheets of the Detroit automakers and simultaneously lift a cloud of uncertainty about the future cost of health care obligations, especially for retirees.
Take that uncertainty off the books and GM (up $2.34 to $32.59, Charts, Fortune 500), Ford (up $0.35 to $7.85, Charts, Fortune 500), and Chrysler start to look competitive again against their overseas competitors.
Since this a union contract negotiation, nothing is settled, of course. And Michaeli writes that the probability of a favorable outcome with the union agreeing to the trust, known as a VEBA, is only 50%.
In a worst case scenario, in which the union refuses to change the status quo, Michaeli sees GM stock falling from its current levels to $26 per share. It will be worse than that; you'll be able to see the lights being turned off all over Detroit.
Citi's view of GM's prospects is seconded by Jonathan Steinmetz of Morgan Stanley, who calls the potential for a VEBA "a significant positive for GM, Ford, and Chrysler."
But he's not willing to raise his target price for GM stock beyond his current number of $30. He points out that GM, as well as Ford, would still be running negative cash flow in their auto business regardless of a VEBA, which isn't a prescription for long-term prosperity.
Other analysts are also positive. Goldman Sachs has a "buy" rating on GM and a target price of $37 because of expectations that "significant concessions are likely to come out of ongoing UAW talks."
Certainly there has been a steady flow of positive GM news in the past couple of days from the Frankfurt auto show. The automaker has been publicizing its efforts at making a commercially viable electric vehicle, with Saturn hinting that it will have a plug-in hybrid Vue on the market by 2008 that can run up to ten miles solely on electricity and switch to a gasoline engine for longer trips.
And GM has been underlining its determination to strengthen its international operations. Along with an announcement that it will build its first assembly plant for Opels in Russia came the prediction that it expects Russians to eventually buy more German-branded Opels than Germans do - about 300,000 per year.,
GM is well ahead of its hometown rivals in executing a restructuring plan and rationalizing its operations on a global basis. Ford, for instance, is at least a decade behind GM in the complicated process of developing common platforms for its global products. And at Chrysler, the new management team installed by Cerberus is still finding out where the bathrooms are located.
Lots of questions about GM remain unanswered: Can it develop a profitable line of passenger cars in the United States to replace the shrinking demand for SUVs and pickup trucks? Can it continue to make gains overseas in the face of a more aggressive Toyota (Charts)? And can it manage the expensive transition from a gasoline-powered world to a wide variety of alternative fuels?
It will be several years before we know the answers. The outcome of UAW contract negotiations, however, will be coming in a matter of days. The current contract expires Friday at midnight. Buckle your seat belts -- it could be a bumpy ride.