Yellow Cab holds California's last IOU
This family-owned business got California's final $41.60 voucher -- adding to the $16,000 the company is already owed.
Map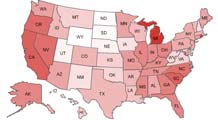 NEW YORK (CNNMoney.com) -- California sent out its last IOU on Thursday. The "lucky" recipient: Yellow Cab Co. of Sacramento, the oldest and largest taxi company in California's capital city.
Yellow Cab's historic warrant was for $41.60, covering a trip taken by a California Department of Fish and Game worker. The IOU hasn't yet arrived in Yellow Cab's office, but when it does, it will have plenty of company. In the two months that California relied on warrants to pay its bills, Yellow Cab collected 62 of them, totaling $16,435.68.
"It hurts with cash flow, but it hasn't hurt that much," Yellow Cab President Fred Pleines Jr. said of his growing IOU collection. "If it went on for a long time, it would be a problem, but $16,000 -- that's livable."
Yellow Cab has been through this before with California and its perennial budget woes. Founded in 1917 and owned by the Pleines family since 1951, Yellow Cab received a stack of IOUs from California in the early '90s, the last time the state's cash coffers ran dry.
California began issuing IOUs on July 2 to cover some of its payments due to individuals and businesses. The vouchers carried an initial redemption date of Oct. 2, but the state controller moved that date forward to Sept. 4 after California lawmakers reached a budget agreement. Those holding IOUs can begin redeeming them on Friday.
Each IOU carries a 3.75% annual interest rate. The state issued 449,241 warrants, totaling $2.6 billion. If every one is cashed, the interest payments will total $9.68 million.
State Controller John Chiang said California owes "a debt of gratitude" to the individuals and businesses that "were forced to bear the brunt of the State's chronic fiscal mismanagement." The end of California's IOU program doesn't mark the end of its budget crisis: The state needs to borrow $10.5 billion to meet its cash needs for the next year.
"I urge the Governor and Legislature to continue their efforts to fix the State's structural budget deficit and ensure we are never again forced to issue IOUs or delay payments to California families and small businesses," Chiang said in a written statement.
Yellow Cab is still holding most of the IOUs it was sent. Its bank, U.S. Bank (USB, Fortune 500), stopped accepting warrants in mid-July. Yellow Cab cashed in some before the deadline, but it's been stuck with the rest, waiting for California to start its redemptions.
"'We've got them stored up," Pleines said.
Yellow Cab is a family-owned business with 30 employees and 70 drivers. Pleines, who took over as the company's president when his father retired 20 years ago, has been involved in the business since he was a toddler. The recession has taken its toll this year: Fewer people are catching cabs, and Pleines says he'd welcome the chance to do more work for California -- despite the state's problems paying its bills.
"It takes a little while to get paid, but cab drivers love it," he said. "It's a nice, safe passenger and an easy trip."
California's landmark final IOU has historic value, but Pleines says he doesn't plan to souvenir the voucher -- or sell it off on eBay (EBAY, Fortune 500).
"It will be cashed in," he said. "We can use the money, and Laura and Nancy in our accounts receivable want their account balanced and paid in full."

Have you suffered a setback because of the economy? What are you doing to overcome it and get back on track? If you've been confronted with some challenge during this recession but are fighting back, send an email to realstories@cnnmoney.com and you could be profiled in an upcoming segment on CNN. For the CNNMoney.com Comment Policy, click here.

To write a note to the editor about this article,
click here
.