Bribe your workers to be healthy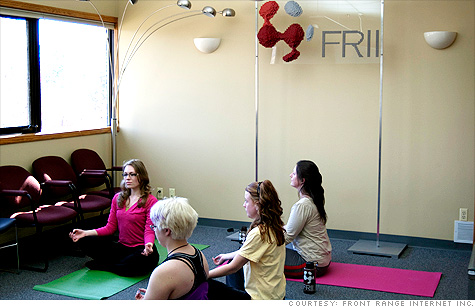 (CNNMoney.com) -- Want to reward -- or bribe -- your workers for healthy lifestyle choices? Provisions in the new reform law offer aid, and even some cash, to small businesses that run wellness and prevention programs for their employees.
Starting next year, the law authorizes grants totaling $200 million over five years for small companies that start wellness programs focused on efforts such as nutrition, smoking cessation, physical fitness and stress management. Companies with fewer than 100 employees qualify for the grants, which will be administered by the Department of Health and Human Services, but only new wellness initiatives -- those launched after March 23, 2010, the date the heath reform bill was enacted -- are eligible.
The law has another boon for prevention efforts: Beginning in 2014, employers will be able to offer reward payments of up to 30% of the cost of insurance coverage (up from the current 20%) to workers who participate in such programs and meet certain health-related benchmarks.
Business groups like the U.S. Chamber of Commerce and the National Federation of Independent Business have opposed the most prominent aspects of President Obama's health care reform, while labor unions and organizations like AARP have been among its biggest cheerleaders. But on the discount provision, the two sides switch teams.
NFIB sees the change as "a positive development," says Amanda Austin, the group's director of federal public policy. "From an employer perspective, there is certainly an interest to be able to incentivize and reward employees for engaging in healthy behaviors." A July 2009 survey by Health2 Resources, an industry PR firm, found that insurance premium reductions are the most popular wellness program incentive among employers.
On the other hand, the Partnership for Prevention, a Washington nonprofit that lobbies for wellness polices and research, is cautious about tying workplace prevention programs to insurance discounts.
"There is concern about whether an incentive for some will end up being a disincentive for others, or whether a benefit for some will end up being an unfair penalty on others," says Robert Gould, the organization's CEO.
Gould is similarly wary about the grants provision.
"It is not an enormous amount of money, nor is it guaranteed to be spent," Gould says. "It's authorized in the legislation, but it has to be appropriated. We'll be encouraging the appropriation, but it's going to be a fight, given the obvious issues with the [federal] budget. But it is the right idea."
But Austin and Gould both agree that the grants authorization is a good effort toward closing the opportunity gap between small and large employers implementing wellness plans.
"We are very interested in it, and we look forward to seeing how this plays out and what exactly we need to do to qualify to get some of this money to the small employers in the community," Austin says.
Front Range Internet CEO Bill Ward would welcome government help to make such programs more affordable. Based in fitness-conscious Fort Collins, Colo., Front Range took home the Wellness Council of America's top small business workplace wellness award last year.
But budget constraints have forced cutbacks each year since the program started in 2007.
Front Range, which has a staff of around 40 people, initially offered a broad menu of activities, from on-site yoga classes to a smoking cessation program and a softball team. Now, instead of focusing on on-site programs, the company uses a point system to reward workers who participate in health and fitness activities on their own. Employees who rack up 100 points during a designated six-month period get $10 off their insurance premiums for each of the following six months.
Front Range spent $1,830 on its wellness program in 2009, including $1,300 in premium discounts paid as reimbursements to employees. The company is considering offering some on-site exercise classes again, but this time for a small fee.
"It's putting it more on the employee, but at least it's making it available even if we can't really contribute to it as much as we would like to," says Kristi Siedow Thompson, the company's design and marketing coordinator.
CEO Ward says he would love to see government support for expanding such programs at small firms like his.
"I would hope that some flavor of that kind of policy would be enacted and funded," he says. "We would certainly want to try to be a part of it."