Spill czar: 'It's my call'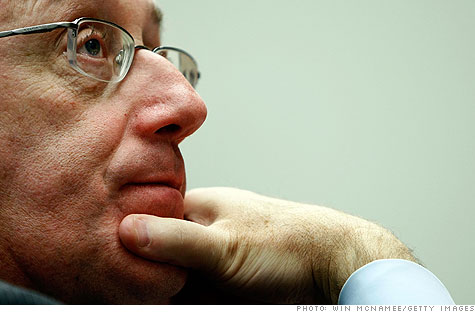 NEW YORK (CNNMoney.com) -- For Gulf businesses wondering if their oil spill claims will be paid, there's one guy who'll decide -- Kenneth Feinberg, the former special master of the September 11th Victim Compensation Fund.
As the oil spill claims czar, Feinberg has access to the $20 billion pot of BP's money that is in escrow to pay for damages.
In multiple appearances on Capitol Hill, Feinberg warned that not everybody who files a claim will get paid. At the Economic Club in Washington, D.C., this week, Feinberg presented a few hypothetical scenarios:
A restaurant in the North end of Boston that can't get Gulf shrimp. Feinberg's vote: "Highly unlikely."
A motel on a beach where there's oil. Feinberg's vote: "Pay them. Pay the claim."
Business at a golf course 50 miles from the Gulf is down 30%. Feinberg's vote: "Dubious."
BP has been paying individual claims, but many business claims have gotten stuck in a holding pattern.
That's where Feinberg comes in.
Feinberg answers to no one. There are no committees. There is no bureaucracy.
"I'm totally independent. I do not answer to the administration, nor to BP," said Feinberg at the Economic Club in D.C.
Feinberg aims to officially take over the claims process from BP by August.
Some claims are straightforward: Shrimpers can't shrimp, fishermen can't fish, and oyster harvesters can't harvest oysters because of the oil.
But in many cases, the legitimacy of a claim is debatable. For example, hotels, restaurants and bars that depend on tourist dollars have seen a drop off in sales. They say it's because of the public's perception that oil might ruin their vacation even if it hasn't reached their beach yet, but proving that isn't clear-cut.
Feinberg can lean on state and federal law to determine what is an eligible claim.
But not always. For example, real estate values and real estate brokers are being impacted by the oil spill even in places when there isn't oil on the beach.
"I am hearing from them constantly. I am not sure whether legally they have a claim," said Feinberg Wednesday in front of the House Judiciary Committee. At the same time, after numerous visits to the Gulf region, Feinberg said he is realizing "those real estate brokers make a credible argument that I have to do something to help them."
No looking back: Despite his notable Boston accent, Feinberg brings clarity and decisiveness to a region that's tired of waiting -- waiting for the oil to stop spewing, waiting for their claim checks to be paid and waiting to know just what the damage has been to their way of life.
For now, residents of the Gulf and members of Congress are thankful for Feinberg's work and reassured by his no nonsense style.
Still, Feinberg admitted that "self-doubt goes with the territory. It's a good thing just to make sure it doesn't paralyze you," he said. "At some point you make a decision. Others might make it differently. You make that decision. Move on."
Claimants also have to make tough decisions and then move on. While Feinberg says he will give out up to six month emergency payments without asking claimants to forfeit their right to sue BP, if claimants opt to settle with the fund for the long term, they'll sign away the right to sue BP.
Feinberg makes this pledge though.
"I'll be much more generous than any court would be, and at the same time, you won't need to pay lawyers and costs. So you ought to come into this program."