Senate OKs small biz jobs bill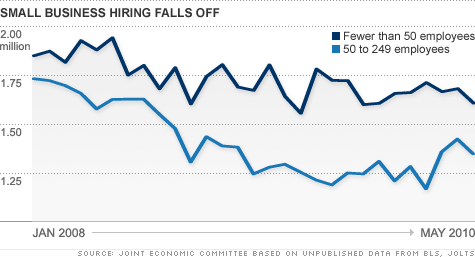 NEW YORK (CNNMoney.com) -- After months of debate and significant pressure from the White House, the Senate on Thursday passed a $42 billion bill aimed at helping small businesses.
The House passed its own version of the bill about 3 months ago. The Senate's version of the Small Business Jobs Act will now have to go back to the House, where it's expected to pass, before President Obama can sign it into law.
The measure is expected to create 500,000 jobs, according to a Senate summary of the bill. Hiring by small businesses, considered a key driver of job growth, has been shrinking over the last two and a half years.
The bill, which passed the Senate vote 61 to 38, aims to spur hiring by making credit more available to small businesses. The number of loans has dropped by 17.8% since the second quarter of 2008 and the total value of those loans plunged by $60 billion to $650 billion, according to data from the FDIC.
Without adequate credit, businesses can't grow and hire. The president started pushing for ways to get cheap capital to small businesses nearly a year ago.
What is in the bill: The Small Business Jobs Act authorizes the creation of a $30 billion fund run by the Treasury Department that would deliver ultra-cheap capital to banks with less than $10 billion in assets.
The idea is that community banks do the lion's share of lending to small businesses, and pumping capital into them will get money in the hands of Main Street businesses.
The bill would also provide a slew of tax breaks to encourage investment that will cost $12 billion over a decade, according to a preliminary estimate from the Joint Committee on Taxation.
The tax breaks increase the amount that a small business can expense for capital expenditures; encourage investors by allowing complete exclusion from capital gains taxes on small business investments; and increase the deduction for startup expenses, among a slew of other incentives.
The legislation also provides $1.5 billion in grants to state lending programs that in turn support loans to small businesses.
A third and popular provision of the legislation increases the loan limits on government-backed loans. It also extends the popular loan sweeteners for Small Business Administration loans through the end of the year. The sweeteners, initiated with the 2009 Recovery Act, have been a stimulus success story and small businesses have been in line waiting for more funding.