A stimulus program that won't be mourned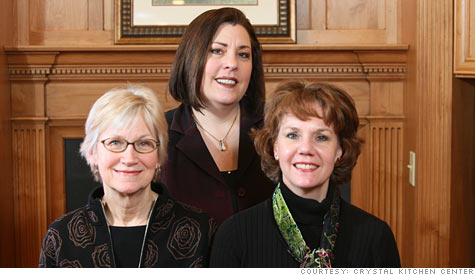 NEW YORK (CNNMoney.com) -- As the economy continues to sputter, President Obama recently signed legislation extending the life of several stimulus measures. But one program designed as an emergency rescue for small businesses didn't get life support, and no one seems to be mourning its loss.
Called "America's Recovery Capital," the loan program was designed to get cash quickly in the hands of established, but struggling, small businesses. Small businesses deemed "viable" could get interest-free ARC loans of up to $35,000 to temporarily help them keep up with payments on existing loans, including credit card debt. The government offered banks a 100% guarantee.
But the program struggled to overcome several hurdles. First, qualifying for the program was tricky: Borrowers had to prove that they were both suffering a financial hardship and sound enough to survive in the long term. Second, banks were slow to get on board: The program required extensive administration and profit margins were scant.
Congress allocated $255 million, which the U.S. Small Business Administration expected would lead to 10,000 loans worth $340 million. The SBA estimates it ultimately supported more than 8,850 loans worth nearly $287 million.
But while the idea was to provide a quick cash infusion, it sometimes took months for a small business to find a willing lender and complete the application process.
The program proved so unpopular that Sen. Olympia Snowe, R.-Maine, who had been a primary supporter of the bill, tried to kill it just five months after it launched. She called the program "plagued with difficulties."
The SBA said the program did what it was supposed to do. "ARC was targeted, intended to be very specific," said Jonathan Swain, assistant administrator at the SBA. "It was there to meet a challenge that small businesses were experiencing at the height of the recession."
A headache for banks: The SBA was tasked with detailing how ARC loans would be administered within 15 days after the $787 billion stimulus package passed in February 2009, but it actually took four months for the program to take shape.
Banks, especially the nation's biggest banks, were less than enthusiastic: The small loans required a lot of work, including new infrastructure to administer the program, and didn't offer a whole lot of profit potential. Getting proof that a small business was both struggling and viable was hard. And if a borrower defaulted, banks were afraid it would take even more paperwork to get reimbursement from the SBA.
JP Morgan Chase offered ARC loans to about 850 small businesses, the most of any lender, followed by Wells Fargo.
"The ARC program provided terrific help to qualifying businesses during tough economic times, but the requirements were demanding" for borrowers and banks, said Tom Kelly, a spokesperson for Chase, in an email.
Wells Fargo was happy to participate, but "felt that this program did not effectively meet the working capital needs of small business owners," said Dave Rader, head of its SBA Lending Division, in an email. "Rigid program rules and a heavy application process made this program burdensome to borrowers and all involved."
Community banks a bright spot: Most of the 1,325 lenders who participated in the program were small, community banks. ARC loans could pose a tough administrative burden on Main Street banks with small staffs, but they also provided an opportunity to land new customers and strengthen relationships with old ones.
At Albina Community Bank in Oregon, each loan cost the bank about $1,000 in up-front costs, said Scott Bossom, VP and Credit Administrator, at Albina Community Bank. But as a Community Development Financial Institution, Albina's goal is to help local, underserved businesses. "We have a mission behind what we do and that is ultimately why we decided to participate," said Bossom.
Of the 200 to 250 applications Albina Community bank reviewed, it approved about 90.
"The $35,000 loan program was the right thing for a select few borrowers," added Christine Young, vice president and SBA loan officer for Venture Bank in Golden Valley, Minn. "It costs just as much to underwrite a $35,000 ARC loan as it does any other SBA loan" that offers more profit potential.
Venture Bank was persuaded to participate in the then-fledgling program by long-standing client Jolynn Johnson, owner of Crystal Kitchen Center, a cabinetry shop in Crystal, Minn.
"The construction industry just died down to nothing starting about August 2008," said Johnson. The $35,000 interest-free loan she received paid her mortgage for nearly six months on office space.
Johnson said the community bank was helpful through the application process
"It wasn't difficult. It was a little bit time-consuming," Johnson said. "We had to come up with a two-year forecast, which was probably the hardest part when you are sitting in the middle of practically zero sales."