Feinberg paying oil spill claims faster than BP did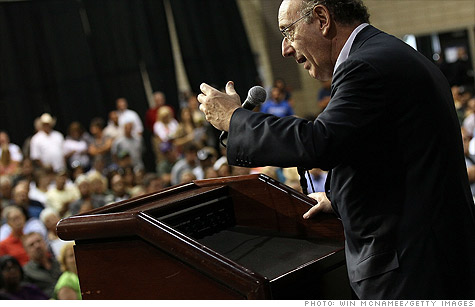 NEW YORK (CNNMoney.com) -- Kenneth Feinberg said that he would get checks out quickly to economic victims of the BP oil spill, and so far, he has been sticking to his word. Thus far, Feinberg's Gulf Coast Claims Facility is paying out claims faster than BP did.
In the first three months that he has been in charge, Administrator Feinberg has paid out more than $2 billion in claims to people and businesses affected by the BP oil spill in the Gulf of Mexico. By contrast, in the nearly four months BP was running it, just $400 million was paid out.
Then again, there have been more requests for claims since Feinberg took over as oil spill claims czar. About 154,000 claims were filed while BP was overseeing the process, and since Aug. 23, when Feinberg started, 440,000 claims have already been filed -- nearly three times as many. Still, in terms of dollars, the Gulf Coast Claims Facility has paid out about 5 times as much in Emergency Advance Payments under Feinberg.
In three months, Feinberg paid out more than five times what BP paid out in four months following the spill. The claims process did take some time to get going: BP didn't pay out its first claim until May 3. But BP did get increasingly efficient: In the first three weeks of August, BP made claims payments of $133 million.
Emergency Advance Payments were set up to provide quick relief for individuals and businesses that experienced financial hardship resulting from damages as a result of the BP oil spill. Businesses and individuals had until Nov. 23 to submit an application for a payment, and Feinberg said that he hopes to be able to process the backlog of applications by Dec. 15.
Feinberg pays less than half of claims received: Of the 450,000 claims received so far, the facility has paid out 125,000 so far, and expects to pay another 50,000, Feinberg said.
Feinberg has said from the very beginning that he won't pay all claims. He requires documentation to verify each claim of loss to prevent fraud. About 125,000 of the 450,000 claims filed have no corroborating documentation of a loss, Feinberg estimates.
Another 100,000 likely won't be approved because "the documentation is woefully inadequate," said Feinberg. For example, a fisherman can't claim a $30,000 loss with only a fishing license attached as proof.
Going forward, if a claimant accepts a final lump-sum payment, the claim has been made whole for both present and future damages incurred due to the spill and waives any right to litigate. But a new payment menthod, called interim payments, was detailed for the first time Wednesday: a business or individual can receive quarterly payments for past damages, and not waive the right to future legal action.