Dan Zanes: King of 'Kindie' rock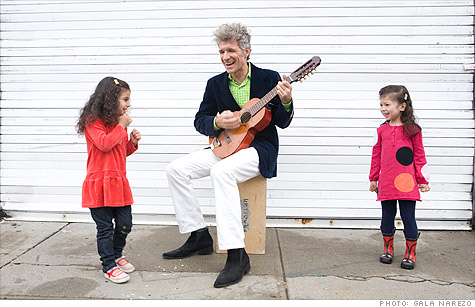 NEW YORK (CNNMoney) -- Back in the '80s, Dan Zanes, the frontman of the Del Fuegos, was rocking venues packed with teens and young adults.
Now it's parents and tots.
And Zanes, 49, has never been more successful.
Zanes' foray into children's music has catapulted him to the top of the burgeoning multimillion-dollar 'Kindie' rock business. Kindie rock is simply indie music for kids that also appeals to adults.
Today, he generates between $1.5 million and $3 million annually from his live performances, CD sales, and licensing deals.
However, it wasn't always that way.
In the '80s, when garage band music was big, Zanes and the Del Fuegos were making a name for themselves with big hair, blazing guitar riffs, and attitude. The music was good -- so good that even Tom Petty of the Heartbreakers became a fan.
Despite some hits and a strong following, the band never quite made it to the big time.
When "the '80s were over, we were over," said Zanes.
After the Del Fuegos broke up, Zanes produced the solo album Cool Down Time, an alternative rock album, in 1995.
He also started dabbling in kindie music, which was becoming popular as parents looked for hipper sounds for their kids instead of the sugary sweet tunes put out by Barney, the Wiggles and other mega kids' music brands.
Zanes himself was especially hungry for that kind of music after his daughter was born that same year.
A few years later, he made 300 copies of a cassette tape filled with kindie songs to distribute around his neighborhood. The response was good.
"Nobody cared about my solo record," said Zanes. "But everybody wanted more copies of this cassette tape."
The business of Dan Zanes: At first, Zanes got financial advice by buying dinner for a business-savvy West Village neighborhood pal, Peter Wright. "I have never thought about making money," said Zanes. "I am just an artist. I am not one of those people that can easily wear both hats, but I also do know that we have to make money."
In 2000, he started the group Dan Zanes and Friends, and launched his own record label, Festival Five Records, the same year.
Since then, the group has released 10 albums and sold half a million records. In 2006, the band won a Grammy for its album Catch that Train. He has also appeared on TV shows including Playhouse Disney and Sesame Street.
Zanes makes the bulk of his revenues from live shows. It is there that he exhilarates kids and parents most with his electrifying performances, huge spiky gray hair and neon suits.
He and the band have performed all over the world, including Bahrain in 2009.
When he started doing kindie, "no one would have ever said, 'This could take you to the Middle East,' " said Zanes.
"An all-ages Grateful Dead Concert": Dan helped create the kindie music movement, said Wright, now Zanes' business manager. And whether it is through music, merchandise or live performances, Zanes is always looking for new ways to share his music, Wright added.
Indeed. A recent project was recording a song for the Philadelphia Zoo, added Wright.
But people most often think of him as a lively performer. A Dan Zanes concert "is going to turn into a dance party," said Zanes. "We want it to be as much like an all-ages Grateful Dead concert as possible."