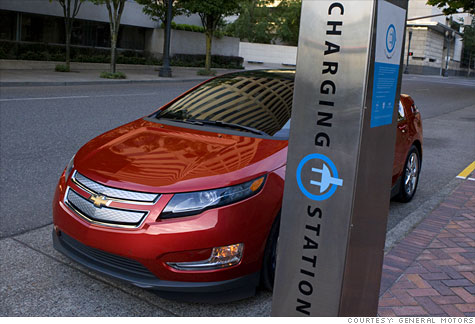 Volt drivers averaged about 1,000 miles per tank of gas in March. But car shoppers need to remember that electricity's not free either. Video: Volt aces its crash test.
NEW YORK (CNNMoney) -- The electric-powered Chevrolet Volt is averaging 1,000 miles on each tankful of gas, according to General Motors.
The Volt's gas tank holds 9.3 gallons, so that means drivers are averaging about 111 miles per gallon. As a result, Volt drivers are stopping to fill their gas tanks only about once a month, GM (GM, Fortune 500) said.
GM collected the fuel economy and fill-up data through the vehicles' OnStar system, spokesman Rob Peterson said.
As of Friday, there were about 2,000 Volts in customer hands, he said.
While there's no reason to doubt GM's claim -- 1,000 miles a tankful could be easily achievable if drivers recharge their cars' batteries frequently -- it doesn't necessarily mean drivers are really paying a lot less per mile to drive, said Jeremy Anwyl, chief executive of the automotive website Edmunds.com.
"What's not being stated is that Volt drivers who go 1,000 miles between gasoline fill-ups are also charging their vehicles with electricity each night and incurring the cost of electricity," he said.
The Volt can travel about 35 miles on a fully charged battery, according to EPA estimates. If the battery becomes depleted, a gasoline engine comes on to generate electricity for continued driving.
Electricity generally costs less, per unit of energy, than gasoline. For example, the Environmental Protection Agency estimates it would cost $2.75, on average, to drive a Chevrolet Volt 25 miles on gasoline but just 99 cents to drive that far on electricity.
There are some places in the United States, however, where electricity is extraordinarily expensive. In those places, that cost gap would be narrower and could, in some cases, even go the other way.
"It's a good marketing claim, but it's not a practical point of comparison," Anwyl said of GM's 1,000-mile-a-tankful figure.
But real-world fuel economy figures like this could help GM's marketing efforts by helping consumers understand its benefits. Up to now, there has never been a simple, straightforward fuel economy figure for the Volt as there is for almost every other car.
While the Toyota Prius, for instance, gets overall fuel economy of 50 miles per gallon, according to the EPA, the Volt gets two separate EPA figures -- 93 miles per gallon equivalent on electricity and 37 miles per gallon on gasoline -- and consumers are left to figure out for themselves how that translates into real driving.
GM's 111-mpg figure, while based on real driving and not formal testing, at least offers something easily comparable to other vehicles. While it's less than half the 230 mpg the automaker unveiled to much fanfare in the summer of 2009, it's still much better than any other gasoline-powered car on the road.
"I think it does help to maybe put the Volt into perspective a little bit," said Alec Gutierrez, an analyst with the auto website Kelley Blue Book.