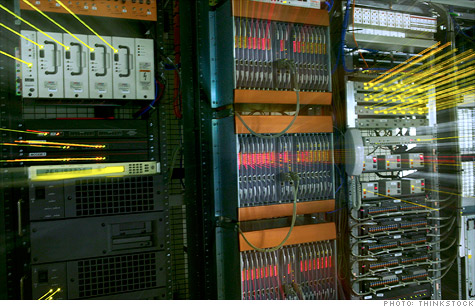 Electricity needed to stream all those videos and do all those searches is increasing by 10% a year, but the power industry says it's not a problem.
NEW YORK (CNNMoney) -- The Internet uses more electricity in America than the auto industry uses to make cars and trucks.
Yet despite all the talk about the nation's aging power grid, utility experts say they can easily handle the additional demand.
In a way, for energy producers, the huge increase in usage by companies like Google (GOOG, Fortune 500) and Facebook is a godsend. Electricity demand from many industrial clients has dropped by up to 20% over the last few years, largely due to the recession and greater efficiency.
Tech sector growth "has helped make that decrease not so bad," said Steve Rosenstock, an engineer at the Edison Electric Institute, the utility trade association.
The electricity needed to power and cool the millions of servers that make the Internet hum has grown by more than 10% a year for the last decade, Rosenstock said. It now accounts for about 2% of all the electricity consumed in the United States.
Data centers alone consumed more electricity than auto manufacturing, he said, and nearly half that of the chemical industry, which is the nation's largest industrial user of electricity.
Greenpeace, the environmental activist group, estimates that Google's eight current and planned server farms could consume 476 megawatts of electricity if they were operating at full capacity. That's enough to power all the homes in San Diego.
Greenpeace recently released a report faulting several Internet companies for not powering more of these data centers with cleaner energy.
"This is the largest demand growth in the United States," said Greenpeace tech analyst Casey Harrell. "Is it going to be connected to old, dirty power, or will it be incentivising renewable energy?"
The tech firms say they are working on ways to make their operations more efficient.
Bill Weihl, head of Google's sustainability efforts, said his company doesn't use nearly as much energy as Greenpeace claims, mainly because its server farms never operate at full capacity.
Weihl declined to say how much energy the firm uses. But he outlined many things the company is doing to reduce its overall environmental footprint.
For example, Google is relying on renewable sources like wind for a big chunk of its energy needs -- something that Greenpeace gives the company credit for.
Google also cools its data centers with more efficient cooling towers instead of compressor units. The company has eliminated non-essential gadgets like keyboards and monitors from the data centers, and aims to buy 100% of its power from renewable sources "in the next few years," Weihl said.
While Google's electricity bill is large, Weihl said it doesn't represent a big chunk of the company's overall costs. Still, he said reducing Google's energy use is both good for the environment and for the company's bottom line.
A Facebook spokeswoman said the company has just opened up a data center that uses a design nearly 40% more efficient than previous versions. She said the company has posted plans for this facility online, encouraging anyone else to use it and improve on it.
Yahoo (YHOO, Fortune 500) said it uses patented designs at its data centers to achieve similar levels of efficiency.
An Apple (APPL) spokeswoman noted that all its facilities, including data centers, only account for 3% of its carbon emissions. She said that the company posts the greenhouse gas emissions for the entire lifecycle of all its products online.
Greenpeace's Harrell pointed out that, while he was critical of some of these tech company's power choices, he certainly recognizes the benefits technology has had on reducing energy use -- be it saving time by using Google maps or employing video conferencing software instead of taking a flight.
That's a point not lost on the tech industry.
"Information technology accounts for about 2% of the world's energy use," said Rob Bernard, a sustainability expert at Microsoft. (MSFT, Fortune 500) "How IT can address the other 98% is by leveraging cloud computing as the backbone of a new smart infrastructure."