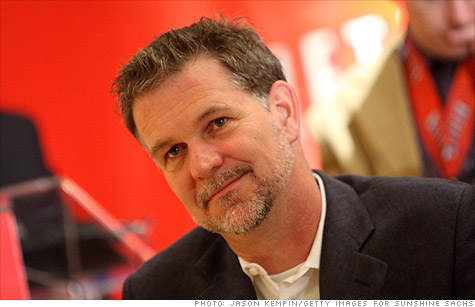 NEW YORK (CNNMoney) -- Netflix CEO Reed Hastings is pleased with his company's massive growth, but he fears that getting too large will start "an Armageddon" with cable networks.
Hastings talked about Netflix's "niche" philosophy -- a Goldilocks-esque business plan of staying "not too big, not too small" -- in a panel discussion Tuesday at the Wired Business Conference in New York City.
Panel moderator Chris Anderson, the editor in chief of Wired magazine, asked Hastings who is "most threatened" by Netflix as it expands its streaming video content.
"We've consistently said getting into current season [TV] or newer movies would not be profitable for us," Hastings said. "It would be an Armageddon. It would be World War III, and we likely wouldn't survive that battle."
Anderson then read a quote from a Comcast exec who said that Netflix doesn't compete with TV, it competes with reruns.
Hastings acknowledged that his company doesn't expect to compete on sports and breaking news, which are suited to live broadcast. "[Netflix is] not every single thing all of you folks want to watch, but it's $8 a month," he said. "It's choosier content."
Still, it's clear that one of Netflix's top priorities is upgrading the quality and depth of the content it has available for instant streaming. On top of licensing its first original series -- "House of Cards," starring Kevin Spacey and due out in late 2012 -- Netflix has recently snapped up some choice reruns, including "Mad Men" and the first season of "Glee."
"You have to make a deal with the content owner," Hastings said. "Luckily we're bigger now, so we can write the check and get the content flowing."
That's a costly and time-consuming process, but it's been in the game plan all along. Netflix (NFLX) attracted most of its giant subscriber base -- which now tops 22 million in the U.S. -- through its DVDs-by-mail rental service. But streaming has been the real goal ever since the company's inception in 1997, according to Hastings.
"We had set up the whole business essentially for streaming, but the network wasn't big enough years ago," he said. "But in 2005 we clicked on YouTube and watched cats on skateboards -- and we thought, it's here! Since then, we've had so much fun finally delivering on our name: Net. Flix."