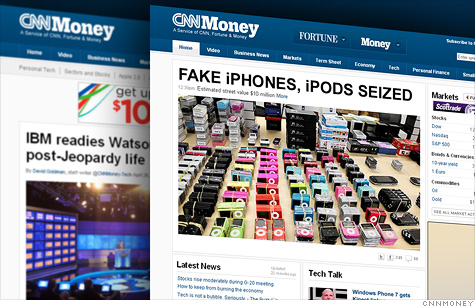 NEW YORK (CNNMoney) -- CNNMoney introduced a fresh look. It's packed with new features and makes it easier for you to delve into the best business reporting from CNN, Fortune and Money Magazine. The changes are the result of months of research and hundreds of conversations with readers. Here's what you told us.
You're busy and want to quickly find what you're looking for. Ease-of-use is at the heart of our redesign. With a streamlined navigation, you can easily drill down into sections to get the stories, information and advice you need.
You like photos. Our stories are much more visual, with richer photos, high-impact graphics, interactive story telling and high-resolution video. Along those lines, we're also introducing an innovative "tablet view," an alternative way to view our most important stories. See them all arranged on one screen, and tap for a quick read.
Many of you are markets junkies. Accordingly, we're debuting a new market tracker right on the home page, putting the most important metrics front and center, including world markets, futures, currencies and commodities. And of course, real-time stock quotes.
Our markets and investing reporting is evolving too. You'll get more fast analysis on what's moving markets and more investing ideas from a wide range of dynamic contributors. We're also unveiling an entirely new section from Fortune: Term Sheet follows the big money from Wall Street to Silicon Valley. Spearheaded by renowned writers Dan Primack and Colin Barr, Term Sheet will track venture capital, private equity and mergers and acquisitions.
CNNMoney and Fortune have also combined reporting firepower to cover the business of technology. It'll be one distinctive experience. You'll get the technology news that matters most, the best in-depth analysis and richest opinions about people and companies driving innovation in today's business.
Look for our new site on Monday, May 9. We're sure you'll like it, but also want to hear from you on ways we can improve even more. So speak up. Send us an email or leave a comment below.