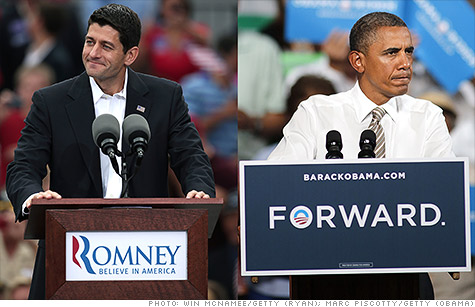 Paul Ryan's selection could spark a real conversation about fiscal policy - as long as Romney doesn't run from his running mate's controversial views and Obama engages with them.
Howard Gleckman is a resident fellow at the Urban Institute and editor of TaxVox, the blog of the nonpartisan research organization Tax Policy Center.
Thank you, Mitt Romney. Your choice of House Budget Chairman Paul Ryan as your running mate might kick off the kind of serious fiscal debate the nation needs.
Depending on how President Obama responds, such a discussion could set the stage for serious budget and tax reform in 2013.
But lest reformers get too excited, the Ryan choice could also set back these efforts for years.
Here's how: The selection of Ryan puts what had been a nasty and issueless campaign at a crossroads. Romney must now defend Ryan's aggressive and extremely controversial tax and budget plans.
Obama, however has two options. He can follow the GOP's 2010 playbook, where Republicans had tremendous electoral success by playing to the public's fear of change. Their strategy: Caricature and demonize Obama's health law (who'll ever forget those phantom death panels), without ever saying what they would do instead.
Obama could easily do the same with Ryan's well-known and controversial tax and spending proposals. If he does, and gets elected by discrediting all those spending cuts, budget reform will end up being set back for at least another four years.
Or the president could engage Ryan and Romney. He'd still hammer the big changes they propose in Medicare, the deep cuts they'd make to social safety net programs and their steep tax cuts for high-income households. But unlike the Republicans in 2010, he'd go the extra step and propose his own alternatives.
For instance, if Obama opposes Ryan's plan to shift Medicare costs from the government to seniors, he could tell us how he'd control those expenses. And if he can't, where he'd get the money to continue to pay for them.
That would open up an historic debate over both the role of government and how we collect taxes to support those programs we say we want.
That's the dream of policy wonks everywhere. And most important, it might help build a consensus for the winner's version of fiscal reform. Do voters really support Ryan's vision of low taxes and small government? Or do we want a government that helps the old, sick and poor. And if we do, how are we willing to pay for it?
By honestly asking these questions, a serious campaign might give the winner a mandate that could -- maybe -- break today's partisan gridlock. At least the odds would be better than if the candidates continue doing what they have been doing.
Until this weekend, Romney acted as if he could get elected simply by blaming Obama for a sluggish economy. As a result, his agenda has largely been a platitudinous black box -- a deficit reduction plan that never specified what programs he'd cut, a tax reform proposal that avoided all discussion of how he'd pay for trillions of dollars in rate cuts and a foreign policy agenda entirely devoid of actual diplomatic ideas.
Obama, if anything, was worse. His campaign was ignoring issues entirely and, rather, focused almost exclusively on painting Romney as a latter-day Gordon Gekko -- an avaricious tax cheat whose only contact with real people was when he accidentally bumped into the maid.
Ryan may change this dynamic. In a recent interview for Ryan Lizza's terrific biographical sketch in the New Yorker, Ryan talked about the importance of not just criticizing others but proposing alternative ideas: "I think you're obligated to do that. People like me who are reform-minded ignore the people who say, 'Just criticize and don't do anything and let's win by default.' That's ridiculous."
Of course, Ryan is running for vice president, not president. And if Romney wants him to soft-pedal some of his more controversial ideas, he'll have no choice but to do so. Romney will try to run on his own, less provocative, tax and spending plan. Obama will blast Ryan's. If the president stays in full attack mode, any hope for serious debate will quickly fade.
I don't know if having Ryan on the GOP ticket will change the campaign's depressing dynamic. But it wasn't going to change without him.