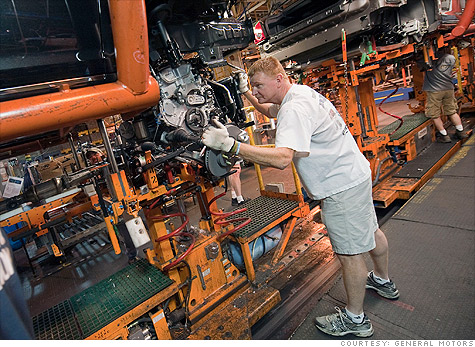 General Motors will invest $2 billion in plants across the U.S. in moves that are expected to save or create thousands of jobs.
NEW YORK (CNNMoney) -- General Motors will invest $2 billion across 17 auto plants in the United States in a move that's expected to save or create about 4,000 jobs, the automaker announced Tuesday.
GM CEO Dan Akerson made the announcement at a factory in Toledo, Ohio, where the automaker will build a new 8-speed transmission.. GM will invest $204 million in the plant in preparation for making that new transmission and will add or save about 250 jobs.
Announcements of other plant investments will come over the next several months, the automaker said, as tax and incentive plans are negotiated with city and state governments. Most of the investments will be in Midwest states, Akerson said.
Each job at a GM added or saved at a GM factory really means seven jobs, Akerson said, when jobs at supplier companies and at stores and businesses reliant on GM employees are included.
"If you add that multiplier -- seven times 4,000 -- that's 28,000 jobs that should come from our confidence in the reborn General Motors," Akerson said.
Since emerging from bankruptcy in July 2009, GM has invested $3.5 billion in moves that, according to the automaker, have created or retained 9,500 jobs, not including Tuesday's announcement.
Most recently, GM announced a $131 million investment in the Bowling Green, Ky., factory where the Chevrolet Corvette is built.
Earlier this month, GM reported a $3.2 billion quarterly profit, the automaker's fifth consecutive quarterly profit and its biggest in 11 years. It marked the first time since 2004 that all three major U.S. automakers were profitable at the same time.
Since the bankruptcy, GM has benefited from the combination of drastic cost reductions and a much improved, and much leaner, product line-up. Before bankruptcy, GM sold eight different brands of cars in the United States. Now it sells just four: Cadillac, Buick, GMC and Chevrolet.