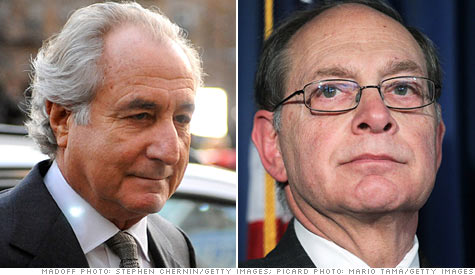 Irving Picard, right, is the trustee in charge of recovering funds lost to the Ponzi scheme of Bernard Madoff, left.
NEW YORK (CNNMoney) -- Some of the people who lost money in the Bernard Madoff Ponzi scheme, but had been shut out of any recovery of their funds, are a step closer to getting at least something back.
The court-appointed trustee in the recovery of assets lost to Bernard Madoff's Ponzi scheme, Irving Picard, has announced a settlement with the liquidators of Fairfield Greenwich Group funds. Those funds had more than 95% of their investors' cash deposited with Madoff's investment firm, which was a front for the largest-ever Ponzi scheme, according to the trustee.
As part of the settlement, Picard and the Fairfield liquidators, Kenneth Krys and Joanna Lau, agreed to drop their multi-billion dollar claims against each other. Instead, they'll make a joint effort to pursue claims against the owners of the Fairfield funds.
As a result, the Fairfield liquidators will seek $230 million from the $10 billion that Picard has recovered for individual investors. That's $1 billion less than they originally sought. In addition, they've agreed to pay Picard $70 million, the amount that Fairfield had taken out of its Madoff investment before the scheme unraveled in December 2008.
Picard, for his part, will drop his $3.8 billion in claims against three Fairfield funds based in the Virgin Islands. This is somewhat pragmatic -- according to the joint statement announcing the deal, the funds "have a limited ability to pay cash toward any judgment."
"We are now working together with the liquidators, not at cross-purposes, to pursue these assets," said the trustee's chief counsel David Sheehan, in a press release. "The trustee is confident that combining forces with the joint liquidators enables the potential recovery of billions in additional dollars for the ultimate benefit of the [Madoff firm] customer fund."
Krys, Lau and Fairfield Greenwich did not immediately return a request for comment.
The $10 billion Picard has recovered is about half of the $20 billion investors lost to Madoff's pyramid-style scheme.
Of the 16,518 investors who filed claims against Madoff, the trustee has determined that only 2,414 have legitimate claims. Those investors are entitled to receive nearly $6.9 billion, according to the trustee. This includes nearly $800 million that has already been allocated through the Securities Investor Protection Corp. (SIPC), a government program for protecting investors.
Feeder funds who invested in Madoff receive compensation from SIPC, but the "third party" investors who deposited money in those funds receive no protection at all. Of the Madoff investors who filed claims with the trustee, nearly 11,000 third-party investors, or two-thirds of all claimants, were denied by the trustee.
Many of these third-party investors, such as those who invested with Fairfield, had no idea they were investing in Madoff and had never heard of him before his firm came crashing down with his arrest on Dec. 11, 2008.
Madoff pleaded guilty in March 2009 to multiple federal counts of running the largest, longest-running Ponzi scheme in history. Madoff was sentenced to 150 years in prison, and is serving his time at a federal facility in Butner, N.C.