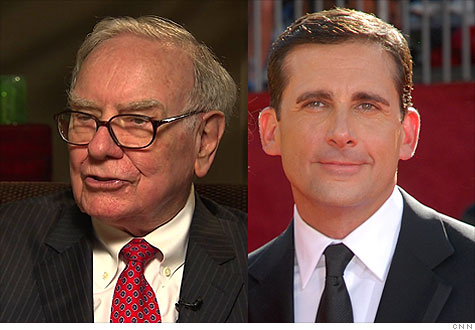 Warren Buffett will try to make America laugh when he makes a guest appearance on NBC's "The Office" as a potential replacement for lead character Michael Scott, played by Steve Carell.
NEW YORK (CNNMoney) -- Billionaire investor Warren Buffett will be making a cameo appearance on "The Office," playing a potential replacement for the dim-witted manager played by Steve Carell on the NBC situation comedy.
An NBC spokeswoman said Buffett will play one of several potential replacements for Michael Scott, the incompetent office manager played by Carell. On "The Office," Carell's character, Michael Scott, has decided to abandon his job and flee to the suburbs.
Buffett will be interviewed for Scott's job. He'll be competing against other potential managers from a guest list that includes comedians Will Ferrell, Jim Carrey and Ricky Gervais, who portrayed the manager on the original BBC version of "The Office."
Investors got a sneak peek of the cameo at the annual meeting of Berkshire Hathaway shareholders in Omaha, Neb., on April 30. Before the meeting began, investors were shown a filmed comedy skit starring Buffett, Berkshire's chairman, alongside cast members of "The Office."
The show's broadcaster, NBC, has been showing sneak peeks of the episode.
Buffett, the chief executive and founder of Berkshire Hathaway (BRK-A), is no stranger to television acting. He has appeared, as himself, on the ABC soap opera "All My Children," according to his IMDB.com filmography.
He also appeared, as himself, in the Oliver Stone movie "Wall Street: Money Never Sleeps," the sequel to "Wall Street."