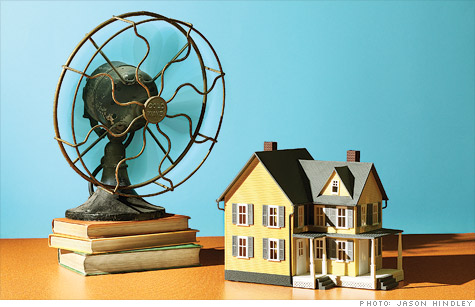 (Money Magazine) -- Warmer weather means relief from the high cost of heating your home. Enjoy it while you can.
Your cooling tab could soon have you breaking a sweat. Air conditioning accounts for nearly 60% of Americans' summer electric bills.
"Nothing puts greater stress on the energy grid than cooling," says Ronnie Kweller of the Alliance to Save Energy. These simple tune-ups and smart upgrades can help you ease the stress on your home energy budget.
Lighten your AC's load
Act cooler
Close the blinds on sunny days, run hot appliances as sparingly as you can, and swap heat-generating incandescent bulbs for chlorofluorocarbons.
Every degree you turn up your AC's temperature knocks 7% off your electric bill, according to the Environmental Protection Agency.
Add padding on top
One of the best ways to keep hot air from seeping into your home is to insulate your attic well, says Danny Lipford, host of the TV show "Today's Homeowner With Danny Lipford."
Putting in new energy-efficient fiberglass or cellulose insulation will cost $600 to $1,500, he says, but reduce your energy bills by as much as 20% a year.
Put your AC to sleep
If you live in an area where temperatures drop at night, switch to a whole-house fan when you go to bed. These industrial-strength, built-in ceiling fans, which cost $600 to $1,500 (including installation), use roughly 10% of the power of central air.
Block the sun
In super-sunny states like Texas and Colorado, installing heavy mesh solar screens on the outside of your windows can block 40% to 80% of heat gain from the sun, cutting your cooling bill by 5% to 20%, says Bruce Harley, technical director of Conservation Services Group in Westborough, Mass.
Cost: $60 to $90 per screen.
Don't ignore the maintenance
Prevent leaks
"People think of windows and doors as being the leaky part of the house, but you could be losing far more -- from 10% to 40% -- of your energy costs through leaky ducts," says Harley.
Apply mastic tape to every seam you can reach. "Regular duct tape will dry out and fail," says Lipford, but mastic tape stays gooey.
Keep the air flowing
Even a small amount of dust on your filter will force the fan to work overtime, so change it every month or two ($5 for disposable filters, $20 for a permanent one that you can wash with a garden hose). Clean window-unit filters every three months.
Get regular tune-ups
Once a year bring in an HVAC pro to inspect and clean the system.
Spring, however, is the peak time for servicing. If you can time your annual checkups for the fall, you should pay $100 to $150 for the visit, a 5% to 10% discount.
Trade in your old model
Central air-conditioning systems typically last 15 years, but heavy users may want to upgrade sooner.
Spring for new gear
Assuming you keep the same ductwork in place, you'll spend $2,500 to $4,000 to replace the condenser and compressor.
Even if your AC is only 10 years old, switching to more energy-efficient equipment will cut the cost of running it by 20% to 40%, says the Department of Energy.
In Phoenix you can recoup your investment in a little over three years; in Boston you'll need 10. Go to energystar.gov and search for "central air calculator" to find your break-even point.
While a window unit can last a decade, says Chris Rossi, manager at D.G. Meyer, an HVAC contractor in Daytona, Fla., you may want to swap it out every six to seven years if you run it frequently.
Be efficient
You want a seasonal energy-efficiency rating (SEER) of at least 13 for central air (for window units, look for an energy rating of 10).
Every step up in SEER improves efficiency by 5%. A 14.5-SEER system will also do a better job at keeping the temperature consistently comfortable, says Lipford. If you opt for a 14.5- or 16-SEER unit (depends on the type), you'll qualify for a $300 tax credit in 2011.