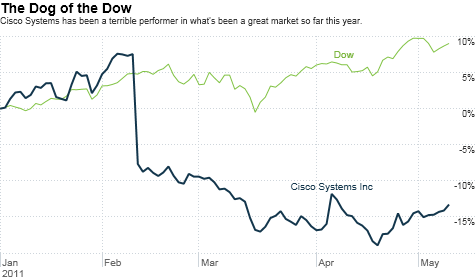 Click the chart for more on Cisco
NEW YORK (CNNMoney) -- Cisco Systems is the most unloved stock in the Dow Jones industrial average.
Shares of the once-mighty networking equipment titan have fallen 12% so far in 2011. That makes it by far the worst performer in the Dow.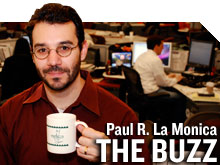 Adding insult to injury, Cisco's woes have come during what's been a great year for the market. The Dow is up nearly 10% and only three other Dow components are even in the red this year.
Cisco (CSCO, Fortune 500) will report its latest quarterly results after the closing bell on Wednesday afternoon, and investors are eager to hear if CEO John Chambers has a plan to get the company back on track.
Cisco has underwhelmed investors for awhile now. The stock fell more than 15% last year. Chambers has been super cautious during conference calls about the economic environment.
And it looks like the major cutbacks in government spending (especially at the local level) is one reason why Cisco has struggled as of late.
But many investors also feel that Cisco is now an unfocused, unwieldy mess.
In addition to its bread-and-butter business of making switches and routers for large corporate customers, it owns a big cable set-top box maker (Scientific-Atlanta), several online video conferencing businesses (WebEx, Tandberg) and divisions that make networking gear for consumers.
Some think Cisco got big for bigness' sake and it's time to slim down.
To Cisco's credit, the company has taken some baby steps to try and please restless investors.
Cisco shut down its struggling Flip video camera business and recently announced a streamlined organizational structure as well. But it's been to little avail.
Alkesh Shah, an analyst with Evercore Partners in New York who owns Cisco stock, said the company needs to convince investors that it plans to focus less on consumers and more on big corporations.
One business that some suspect Cisco may want to put on the chopping block is Linksys, a division that makes routers for the home and small businesses. Cisco bought it in 2003.
"I think Cisco is taking the initial steps toward moving back to growth," Shah said. "Focusing on the core customer base of large enterprise customers makes sense."
Shah argues that Cisco's individual businesses may be worth as much as $24 a share if the company was broken up. That's 35% higher than Cisco's current stock price.
But Cisco may need to do more than get leaner and meaner.
The company has to do a better job of fending off competitive threats in its core business. Shah said that Juniper Networks (JNPR) has been stealing some market share from Cisco and that Cisco is now also facing a threat on the low end from Hewlett-Packard (HPQ, Fortune 500).
HP bought 3Ccom last year and Shah said that HP has been very aggressive on price since that deal.
But some investors said Cisco shouldn't completely give up on newer businesses. Some acquisitions have paid off.
Mark Oelschlager, a portfolio manager with Oak Associates, a money manager in Akron, Ohio that owns Cisco, said Cisco's online video businesses could benefit from any turmoil created by Microsoft's (MSFT, Fortune 500) just-announced $8.5 billion deal for Internet phone and video service Skype.
"I don't think Skype will hurt Cisco. Honestly, I have a hard time understanding why Microsoft is doing that deal but that's a different story," he said.
Another fund manager said that Cisco, despite its many problems, seems to recognize that it has to take bold action to get back on track.
"Cisco has a great balance sheet and lots of cash and it realizes there is a sense of urgency," said Sunil Reddy, a portfolio manager with Apex Capital Management in Dayton, Ohio.
"Cisco has the same issues that other big tech companies have. It dominates its markets but the question is where new growth is going to come from," Reddy added.
Reddy said his firm sold its stake in Cisco a few months ago in order to focus on more rapidly growing tech firms. But he said if some of Cisco's most recent restructuring moves pan out, he'd be tempted to get back into the stock.
The main question now though is will Chambers be able to stick around long enough to see the fruits of the reorganization.
Shah thinks so.
"Despite Cisco's missteps over the past 18 months, Chambers still has a very good reputation. He's going to get a shot to put Cisco back on course," he said.
But Oelschlager isn't as certain. If Cisco continues to give cautious outlooks about sales, more shareholders may call for Chambers' head.
"Chambers has bought himself more time but he will have to show some improvement soon," he said. "The last few quarters have been very disappointing."
The opinions expressed in this commentary are solely those of Paul R. La Monica. Other than Time Warner, the parent of CNNMoney, and Abbott Laboratories, La Monica does not own positions in any individual stocks.