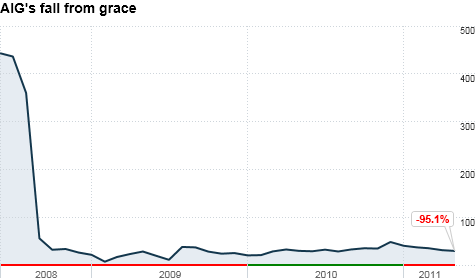 Click chart to track AIG's stock
NEW YORK (CNNMoney) -- Troubled insurer AIG just can't catch a break.
Shares of AIG hit a new 52-week low of $29.15 this week. That's just a stone's throw from $28.72 -- the breakeven point for the nearly 1.7 billion shares held by the U.S. government.
Late Tuesday, AIG's board even considered postponing a long-planned sale of its stock. But in the end, AIG and Treasury decided to move forward with the offering, although at much less than it had hoped for.
AIG will sell 100 million shares and Treasury will sell 200 million shares, according to a regulatory filing. They did not put a price on the offering but news reports say it's probably near the low end of a $7 billion to $25 billion range.
Back in 2008, the government agreed to help the giant insurer get back on its feet with a $180 billion lifeline.
AIG has been slowly working toward paying back that loan.
The company sold its life insurance division, Alico, to MetLife (MET, Fortune 500) for $16 billion. It also raised $20.5 billion through an initial public offering of its AIA life insurer, and sold two Japanese units to Prudential Financial (PRU, Fortune 500) for $4.8 billion. That leaves Treasury with about $47.5 billion still invested in AIG
After reporting a quarterly loss this week and watching its stock slide, AIG's repayment plan may have just gotten more difficult to achieve.