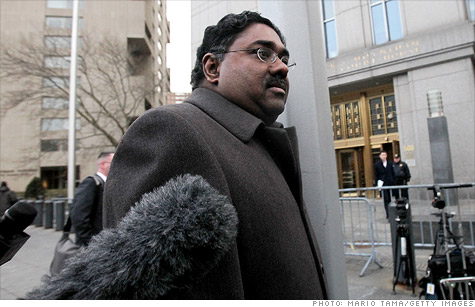 Galleon Group founder Raj Rajaratnam was found guilty of 14 counts in an insider trading case.
NEW YORK (CNNMoney) -- Raj Rajaratnam, the hedge fund boss accused of insider trading, was found guilty Wednesday by a jury in New York of conspiracy and securities fraud.
The conviction, announced in Manhattan federal court, is a significant victory for federal prosecutors, who have been cracking down on insider trading in the wake of the financial crisis.
Rajaratnam, the founder of Galleon Group, was found guilty of reaping millions in illegal profits in the stock market using non-public information he obtained from insiders at major companies.
The jury deliberated for about two weeks before finding Rajaratnam guilty on 14 counts -- five counts of conspiracy to commit securities fraud and nine counts of securities fraud. He is expected to go before a judge for sentencing July 29 and faces up to 20 years in prison.
The eight-week trial was one of the most high-profile insider trading prosecutions in a decade.
Prosecutors played dozens of wiretapped phone calls in which Rajaratnam discussed proprietary information on big companies, including Goldman Sachs (GS, Fortune 500).
The prosecution said the recordings showed Rajaratnam received information from Rajat Gupta, a former Goldman board member, which he used to make $17 million in illegal profits.
Lloyd Blankfein, the chief executive of Goldman, testified in March that Gupta knew he had a duty to keep private developments in Goldman's board meetings.
The Securities and Exchange Commission has filed civil charges against Gupta, who has denied wrongdoing.
The prosecution said Rajaratnam, 53, also received tips between 2003 and 2009 from individuals at other hedge funds and insiders at companies such as Intel (INTC, Fortune 500) and IBM (IBM, Fortune 500), among others.
Preet Bharara, the U.S. Attorney for the Southern District of New York, said the conviction is a victory for ordinary investors and companies whose information is stolen.
"The message today is clear," he said. "There are rules and there are laws, and they apply to everyone, no matter who you are or how much money you have."
John Dowd, the lead attorney for Rajaratnam, said in a short statement after the verdict: "We'll see you in the Second Circuit," suggesting he will appeal the ruling.
During the trial, Dowd argued that the information Rajaratnam received was not secret and not central to his investment decisions. The defense rested largely on the Mosaic Theory, in which investors use small bits of information from a variety of sources to come up with an investment thesis.
Bharara said his office has charged 47 individuals with insider trading crimes over the last 18 months. He said prosecutors will continue to target "those who believe they are both above the law and too smart to get caught."
The government is also prosecuting hedge fund managers and employees of expert networking firms on charges of insider trading.
Greg Little, a former SEC trail lawyer and partner at White & Case, said prosecutors are sending a message: "Wall Street is on notice."
"Trade on inside information, and you better start worrying about whether prosecutors are listening," he said. "This goes for the most junior employee as well as the most senior officer."