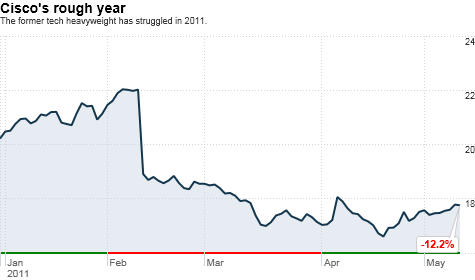 Click the chart for more on CSCO.
NEW YORK (CNNMoney) -- Despite cautious statements from its CEO last quarter, Cisco Systems posted fiscal third-quarter profit and earnings that beat expectations.
Cisco (CSCO, Fortune 500) said Wednesday that its net income fell 17% over the year to $1.8 billion, or 42 cents per share, for the quarter ended April 30. Analysts polled by Thomson Reuters had forecast earnings of 37 cents per share.
"This quarter played out as we expected," CEO John Chambers said in a prepared statement. "We have acknowledged our challenges. We know what we have to do."
Sales rose 5% over the year to $10.9 billion, in line with analysts' forecasts of $10.86 billion. Cisco's cash stockpile rose to $43.4 billion.
Shares rose 4.5% in after-hours trading, but they reversed direction and fell 1.2% after Cisco executives issued tepid guidance while on a conference call with analysts.
"While Q3 met expectations, Q4 will continue to show weakness while we do the hard work for the future," Chambers said on a conference call with analysts..
Cisco's chief operating officer, Gary Moore, warned that the coming quarters will bring "tough choices and tradeoffs" -- namely, a global "headcount reduction" that the company will "execute with precision."
Later on the call, chief operating officer Frank Calderoni said restructuring charges will hurt the company's bottom line in Q4. Cisco expects fourth-quarter sales to come in flat to 2% higher -- much lower than the 7% to 8% increase analysts had forecast.
Chambers called Cisco "a very strong company in a solid market with a few problem areas" -- specifically, consumer products, set-top boxes, switching and the public sector business.
Those concerns have hit the company's stock hard.
Cisco shares have fallen 12% so far in 2011 even as the Dow has risen 10%, making the company by far the worst performer in the blue-chip index.
Chambers sent out a staff memo last month outlining his company's pain points.
"We have been slow to make decisions, we have had surprises where we should not, and we have lost the accountability that has been a hallmark of our ability to execute consistently for our customers and our shareholders," he wrote. "That is unacceptable. And it is exactly what we will attack."
While Cisco remains the world's largest networking provider, it has faced criticism for a lack of focus. Days after Chambers' all-hands memo went out, Cisco shuttered its struggling Flip video camera business and announced an organizational restructuring.