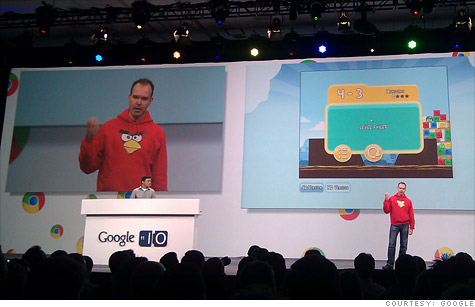 Rovio's Peter Vesterbacka took the stage at Google I/O to unveil Angry Birds' long-awaited Web debut.
SAN FRANCISCO (CNNMoney) -- The world's most popular cranky avians are about to land in your Web browser.
On the second day of Google's I/O developers conference in San Francisco, Google and Rovio Mobile announced that wildly popular smartphone and tablet game Angry Birds will be available on the Web via Google's Chrome browser starting Wednesday.
"We've wanted to bring Angry Birds to the Web for a long time," said Peter Vesterbacka, Rovio's chief marketing officer. "The reason we've been so angry is we haven't been able to do it until now. We think Chrome is great environment for Angry Birds."
Vesterbacka said Angry Birds chose Chrome as its first Web partner because Google's browser has the right combination of modern browser features, including hardware acceleration, HTML 5, in-app payments and a Web store through which the game can be downloaded.
Angry Birds went live in the Chrome Web store Wednesday, with special levels only available in the Chrome version of the game. The current beta version of the game is free, without the ads found in its Android mobile version. That may change as the app develops.
The game takes advantage of both the computer's central processing unit as well as its graphics processor to allow for the graphics-intensive interface that Angry Birds features. The game also incorporates Chrome's ability to store data locally on a computer, so Angry Birds can be played when the computer is not connected to the Internet.
"I've been working on improving the Web for a long time, and this is culmination point," Sundar Pichai, Google's senior vice president of Chrome in a keynote address, said jokingly. "My kids will finally think I'm doing something useful. It shows the pace at which the platform is evolving."
Google (GOOG, Fortune 500) also announced several milestones for Chrome on Wednesday.
Usage of the browser has soared over the past year, reaching 160 million users. That's more than double the 70 million people who were using the browser at the same time last year.
To entice consumers and developers to use Chrome, Google has kept the browser extremely up-to-date at the cutting edge of evolving Web technology. It launches a new version of the browser every six weeks.
Recent new features include speech-to-text capabilities, advanced hardware acceleration and the ability for developers to inexpensively accept in-app payments. Unlike most mobile app stores, which tax developers at about 30% of their sales -- including Google's own Android Market -- Google charges developers just 5% for sales made through the Chrome store.
New 'Chromebooks'
The company also announced two new "Chromebook" netbooks for Chrome OS, the company's Chrome-based operating system.
Chrome OS is a Web-based operating system that relies heavily on Web applications like Google Docs instead of installed software like Microsoft Word.
For consumers, Samsung will offer a 12.1 inch display Chrome book for $429, or $499 with 3G capabilities. The Acer ChromeBook has an 11.6 inch display and will sell for $349. Both include Intel (INTC, Fortune 500) Atom-based chips.
The new netbooks will be available for U.S. and European consumers to order on Amazon (AMZN, Fortune 500) and Best Buy (BBY, Fortune 500) on June 15.
For businesses, Google is starting a new program that allows companies to deploy Chromebooks to their workforce for $28 per user per month. IT administrators can manage each Chromebook via a Web console that comes as part of Google's service package. The service package also includes full support from Google and free replacements if the Chromebooks break down.
Pichai said he thinks Chrome OS will be attractive to about 75% of businesses that are currently using Microsoft (MSFT, Fortune 500) systems.
Google will offer the same program for governments and schools for $20 per user per month.