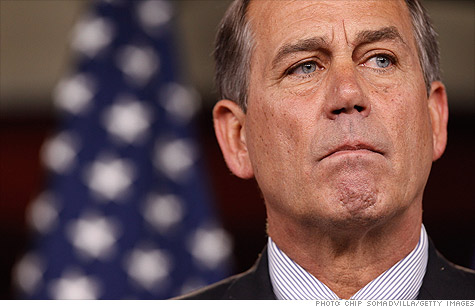 House Speaker John Boehner has said "everything is on the table" except tax increases. That makes a deal on debt hard to reach and debt reduction hard to accomplish.
NEW YORK (CNNMoney) -- Trillions in spending cuts. No tax increases. No kidding.
That is House Speaker John Boehner's opening bid in negotiations over raising the debt ceiling.
Politically, the Boehner parameters aren't likely to fly. President Obama and other Democrats have already made clear they want to reduce debt through a combination of spending cuts and increased tax revenue.
But practically, can the country live with a regimen of spending cuts alone? It's unlikely, since the changes could end up being too severe to be palatable, fiscal experts say.
Just to keep the country's total debt where it is now -- around 60% of GDP -- without tax increases, lawmakers would need to cut spending today by 35% or about $1.2 trillion, according to the Government Accountability Office.
That's almost as much as what the country spends on defense and other discretionary spending -- i.e., nearly everything Americans expect their federal government to do outside of providing Medicare, Medicaid and Social Security benefits.
Keep in mind, too, that stabilizing public debt at 60% likely won't be enough because it's still well above the country's historical average -- which is under 40%. Translation: Even more cutting would be necessary in subsequent decades.
Another reason that a spending-cuts-only debt-reduction plan may not be the best option: It likely would require less of a sacrifice from the wealthy than from everyone else.
And any plan lawmakers agree to has to be seen as credible by the markets since the push to bring deficits down is driven by a fear that bond investors at some point may turn tail on U.S. Treasurys.
A Reuters survey this week suggests that spending cuts alone wouldn't fly. A majority of bond firm economists and fund managers said that tax increases, in addition to spending cuts, must be part of the solution.
It's not clear how many trillions Boehner and the GOP will aim for in spending cuts or over what time period.
Capitol Hill aides believe lawmakers will seek a $2 trillion increase in the debt ceiling, and Boehner has said spending cuts will need to exceed any debt ceiling increase.
If the GOP's demands for spending cuts end up in the $2 trillion range over 10 years, that would be on par with the amount of spending cuts called for by President Obama's bipartisan debt commission, not including interest savings.
The commission proposed $1.2 trillion worth of discretionary spending cuts that leaned most heavily on defense. It also called for $400 billion in health savings and roughly $300 billion in mandatory spending cuts, said Marc Goldwein, policy director of the Committee for a Responsible Federal Budget who also worked on the fiscal commission staff.
But here's the catch: The Democrats who supported the proposal did so because it was part of a comprehensive plan that included revenue increases.
It's also not clear whether Republicans will eventually agree to curb tax breaks, which many consider a form a government spending through the tax code. The elimination of such breaks -- a key element in the debt commission's proposal -- is a way to raise more revenue without actually raising tax rates. (Blowing up the tax code.)
Sen. Jon Kyl, who is part of the debt ceiling negotiations led by Vice President Joe Biden, suggested in a radio show with Larry Kudlow that the debt ceiling talks may not be the best forum to discuss tax reform.
"I'm not sure this is the place to do that.... We will not consider tax increases as a part of this discussion," Kyl said. "As a result, it's a little difficult to talk about pro-growth tax reform because one of the elements is the elimination of ... tax expenditures. When you do that somebody's taxes actually go up."