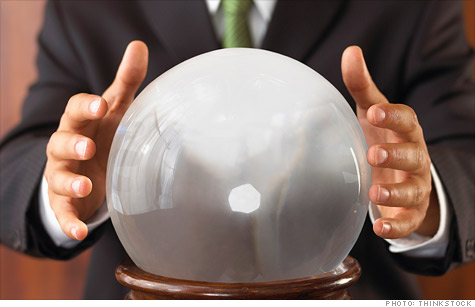 Two dozen CEOs took part in CNNMoney's survey of business leaders. While nearly all were more optimistic about the economy, CEOs are still nervous about the future.
NEW YORK (CNNMoney) -- Business leaders believe the economy is getting better and many even said they are hiring more workers as a result.
But chief executive officers remain nervous about many things, most notably higher gas prices and debt problems in the United States and Europe. That's according to a CNNMoney survey of 24 CEOs conducted over the past few weeks.
Each CEO was asked whether they were more confident now than a year ago, what they thought were the biggest risks facing the economy and markets, what they thought Washington could do to help businesses and the economy, and whether their own firms were starting to hire more.
All but one CEO said they were more confident about the economy. And only one said his firm wasn't planning on hiring.
As for the major risks, nearly half of those surveyed specifically cited higher gas and commodity prices, or inflation.
"The run up of gasoline and diesel prices is taking meaningful buying power away from consumers. That specific inflation knows no economic class boundary but will affect the lower wage earners the most," said David Haffner, CEO of Leggett & Platt (LEG), a Carthage, Mo.-based maker of bedding and other home furnishings.
While the recent decline in oil prices may offer some relief, CEOs said they are still concerned since gas prices remain sharply higher from a few years ago.
And that will continue to hurt the middle class.
"Here's one way to think about it," said Lanham Napier, CEO of San Antonio-based cloud computing firm Rackspace Hosting (RAX). "You figure the average person drives 15,000 miles a year. That's 1,000 gallons of gas. If gas is up $2, that's $2,000 after tax dollars which, for a person that makes $50,000 a year, is a lot of money."
Concerns about the U.S. budget deficit were also on the major risk list.
"Until the Federal government seriously addresses the entitlement programs and the military budget, this country will continue to run serious deficits," said Ted Peters, CEO of Bryn Mawr Bank (BMTC), a Pennsylvania lender that didn't take any bailout funds.
Most CEOs seemed cautiously optimistic that the government will finally agree on a plan to fix many longer-term economic challenges.
But Doug Ober, CEO of Adams Express (ADX), a closed-end fund in Baltimore that invests in U.S. stocks, isn't so sure.
He's the only CEO in the survey who said he's less confident now than a year ago. "If this growing deficit is not dealt with, the bond markets will crumble and the dollar will no longer be the world reserve currency," Ober said.
Mohamed El-Erian, CEO of bond investing powerhouse PIMCO, has been a vocal critic of fiscal policy in Washington.
He also wants Congress to tackle the deficit. But he listed jobs as a major priority for Congress and the White House.
El-Erian said Washington needs to "deliver a clear, operational and bi-partisan vision of America's economic outlook that has three key components: combating a huge unemployment problem that is becoming more structural (and therefore protracted) in nature, medium-term fiscal reform, and steps to restore the vibrancy and enhance the international competitiveness of the economy."
Other CEOs also urged Washington to work harder on job creation.
If the government were to focus on alternative energy, said Chris Loughlin, CEO of New York-based online travel deals site Travelzoo (TZOO), it could solve two key issues.
"Invest in research and development, particularly in fuel development," he said. "This will spur decades of innovation and jobs. It is also smart."
But there was some debate as to what, if any role, government should play.
Dick Evans, CEO of Cullen/Frost Bankers (CFR), a San Antonio-based financial firm that also did not take TARP money, bluntly said that Washington should "get the hell out of the way."
Evans, like several other CEOs, expressed concerns about the Dodd-Frank financial reform bill.
Some felt Dodd-Frank was an example of Washington making problems worse with onerous and unclear regulations.
And some CEOs said lawmakers could help create jobs by reforming the nation's tax code.
Interestingly, while most CEOs supported lower taxes for businesses, several indicated they would not have a problem with higher individual taxes for their own income bracket.
In response to the question about what Washington could do to help businesses, Tom Toomey, CEO of UDR (UDR), a Denver-based real estate investment trust that owns apartments, said lawmakers should "lower corporate tax rates and increase taxes on the wealthy."
Toomey also said he wanted politicians to "downsize government spending across the board and implement a long-term plan to reduce all elements of entitlement spending."
Barbara Morrison, CEO of TMC, a small business lender in San Francisco, agreed with Toomey on taxes.
"Claiming that extending the tax cuts for individuals making more than $250,000 a year is a job creation program is hard to justify. Small businesses create jobs. Giving the CEO a tax break has no influence on hiring," she said.
Michael McKean, CEO of Knowland Group, a marketing firm for the hospitality industry based in Washington, also urged the government to focus more on small business.
He said politicians need to "do a better job of helping small and medium business owners and the start-up/venture communities. These two segments of the economy drive most of the growth in our economy and are very under-represented in Washington."
Fortunately though, CEOs don't appear to be waiting for Washington to solve the job problem.
Nearly all the executives said they were looking to hire, with several indicating they were planning to aggressively expand headcount to meet demand.
One CEO, who arguably has a better read on the job market than any of the others in the survey, was particularly bullish.
"Like many of our customers, we are investing in the future and actively recruiting around the world," said Sal Iannuzzi, CEO of New York-based online jobs site Monster Worldwide (MWW).
Nonetheless, CEOs still expressed a fair amount of caution.
Several cited how fragile and slow the recovery will be. One even suggested that it was too soon for Washington to pull back its support for the economy.
"The economy is simply not strong enough yet to cut short-term stimulus. It is prudent to begin to deal with the long-term fiscal issues, but it's important this be done properly to avoid a double dip recession," said Fred Tomczyk, CEO of Omaha-based online broker TD Ameritrade (AMTD).
Simply put, CEOs are just as nervous about the volatility around the world as the rest of us. It won't be a huge shock if businesses look to cut back on some of their more ambitious spending plans if the global economy weakens.
John McAdam, CEO of networking equipment firm F5 Networks (FFIV) in Seattle, said he's more confident about the economy. But he quickly added that "the caveat is there is uncertainty generally. It may only take one or two events before purse strings could tighten."
The opinions expressed in this commentary are solely those of Paul R. La Monica. Other than Time Warner, the parent of CNNMoney, and Abbott Laboratories, La Monica does not own positions in any individual stocks.