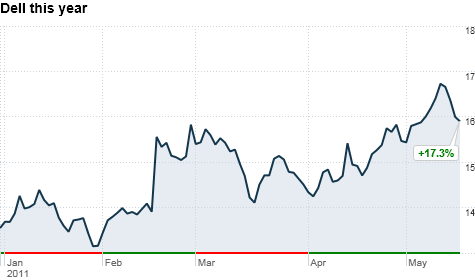 Click the chart for more on Dell stock.
NEW YORK (CNNMoney) -- Dell's PC sales slumped in the first quarter of 2011, even as the computing giant booked record earnings.
Dell (DELL, Fortune 500) earnings came in Tuesday at a record 49 cents a share, on revenue of $15 billion, in the quarter ended April 29. Shares rose 4.1% in after-hours trading.
Despite the profit growing, sales in several product categories slipped. Desktop PC sales fell 8% compared to last year, coming in at nearly $3.3 billion.
That's a worrisome trend for Dell, as desktop PC sales still make up 22% of its total net revenue -- behind only the mobility category, which comprises 32% of Dell's total revenue.
But Dell's enterprise customers, who make up 80% of Dell's sales, fueled sales as they continued to refresh their old computers. Dell's "large enterprise" business unit reported that its desktop and laptop computer revenue rose 7% in the quarter.
PCs sales were in the spotlight Tuesday morning as HP (HPQ, Fortune 500) reported that its consumer PC sales fell 23% last quarter. Those sales had slumped for the past several quarters. Meanwhile, HP's corporate PC sales were up 13%.
HP lowered its fiscal-year earnings guidance to $5 a share, down from $5.20, citing the weak PC sales and fallout from the earthquake in Japan earlier this year.