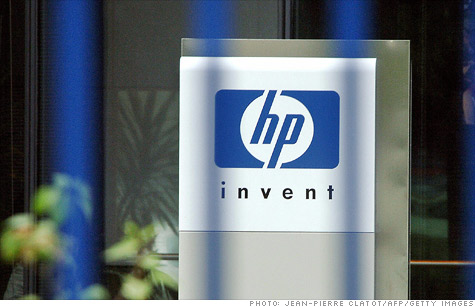 NEW YORK (CNNMoney) -- Hewlett-Packard Co. reported a rise in quarterly profit and sales on Tuesday that beat Wall Street's forecasts, but a dour outlook overshadowed those results.
The world's largest tech company lowered its sales forecast for the current quarter and fiscal year, citing the impact of the earthquake in Japan, weak demand for consumer personal computers and trouble in its services division.
HP's revised expectations were all well below Wall Street's forecasts, and shares of HP (HPQ, Fortune 500) fell by more than 7%.
The company said it is "working around the clock" to minimize the impact felt by the crisis in Japan, but HP still expects to take a $700 million hit to sales over the next six months. The big blow is due to reduced Japanese demand as well as supply constraints that have affected the entire tech industry.
Consumer PC sales have been slumping for the past several quarters, but demand took a turn for the worse over the past three months, as sales fell 23%. Sales of PCs to corporations were up 13%, but they could not make up for the sinking consumer business.
HP's IT services division also continued to struggle, with revenue growing just 2%. The company has long promised big numbers from its services unit, but growth has been tepid at best. Margins have expanded swiftly and significantly, but sales and profit have been largely unchanged over the past several years.
As a result, HP said Tuesday it is accelerating its previously announced plans to bring a much larger cloud computing component to its services business.
"HP has a solid strategy for services, but we haven't invested in the parts necessary for long-term success," said Léo Apotheker, HP's CEO, on a conference call with investment analysts. "As a result, our short-term margin expectations have been too high. That underinvestment has impacted our ability for sustainable growth in the long term."
That "underinvestment" refers to former HP CEO Mark Hurd's notorious cost-cutting measures. The company performed very well under Hurd's tenure, but some analysts believed his strategy sacrificed long-term success for short-term business.
HP CFO Cathie Lesjak said on the call that the company will need to ramp up its investment in "value-added services" to take advantage of long-term opportunities in services. That will weigh heavily on margins, but Apotheker said the alternative is to "be left with a business that is running out of steam."
Lesjak said the transition will take time, and that the services division's revenue will continue to grow in just the single digits for the near future.
The company also said it is making some structural changes, including combining its tech services and networking businesses as well as finding an executive vice president to oversee the services business. In the interim, Ann Livermore, head of HP's enterprise business, will take charge of services.
As a result of the weakness stemming from Japan, consumer PC sales and services, the company said it expects earnings of $5 per share on sales of $129 billion to $130 billion for the fiscal year. Previously, the company said it had expected a profit of $5.20 to $5.28 per share on revenue of $130 billion to $131.5 billion.
For the current quarter, HP expects profit of 90 cents per share on sales of $31.1 billion to $31.3 billion. Other businesses performed well, including servers and software, sales of which grew by 15% and 17% respectively.
In March, Apotheker unveiled the company's new strategy, in which both of those higher-margin businesses would become a greater focus within the company. Apotheker previously was the head of German software giant SAP (SAP).
Overall, the Palo Alto, Calif.-based company said net income for the fiscal second quarter, ended April 30, rose to $2.3 billion, or $1.05 per share. That's up 5% from a year earlier.
Results included a one-time charge of 19 cents per share. Without the charge, HP said it earned $1.24 per share. Analysts polled by Thomson Reuters, who typically exclude one-time items from their estimates, forecasted earnings of $1.21 per share.
Sales rose 3% to $31.6 billion, topping analysts' forecasts of $31.5 billion.
HP announced its earnings one day earlier than originally scheduled. On Monday, Bloomberg published a report citing an internal memo in which Apotheker warned top HP executives that the company would be bracing for "another tough quarter" in July.
Rival Dell (DELL, Fortune 500) is set to announce its quarterly earnings after the closing bell Tuesday.