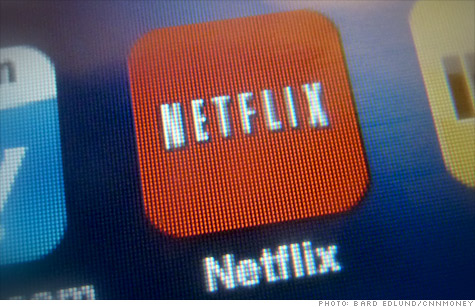 Severe bandwidth caps in Canada make streaming video very expensive -- leading to big losses for Netflix.
NEW YORK (CNNMoney) -- Netflix's first foray into international markets has been rough. Why? Blame Canada.
Thanks to some new -- and severe -- bandwidth caps by Canadian telecoms and cable companies, streaming video is very expensive for our northern neighbors.
Canadian Internet service providers began rolling out pay-as-you-go data plans in 2008, in which customers pay out the nose if they go over their allotted limits. But things got even worse last September, when Canadian regulators approved a strict "usage-based billing" plan from top telco Bell Canada (BCE).
Within the last year, Bell and other major ISPs, including Rogers Communications (RCI), drastically cut the bandwidth allowances on their plans. Many customers are now capped at about 25 gigabytes per month. Additional data can cost $1 or more per GB.
Some Canadian data plans offer as little as 2 GB, which is enough to stream just two hours of standard-quality video -- an obvious nightmare for Netflix, which launched in Canada late last year.
Edward Williams, research analyst at BMO Capital Markets, says bandwidth caps are a top concern for Netflix right now, especially if U.S. firms follow suit.
"The cable companies who are losing customers to Netflix are also the toll takers when it comes to bandwidth," Williams points out. "That's an extremely important dynamic."
In fact, data caps already made their way stateside in March courtesy of AT&T and Comcast (CMCSA, Fortune 500) -- albeit at a much more generous level than Canadian plans.
AT&T (T, Fortune 500) limited its U-Verse customers -- who subscribe to its high-speed broadband, television and telephone network -- to 250 gigabytes of Internet usage each month. Each additional 50 GB beyond the limit costs $10.
Heavy international losses in 2011: Netflix's growing pains in Canada seem to have even caught the company by surprise. Netflix (NFLX) ended the first quarter with about 800,000 Canadian subscribers, which came in at the low end of company forecasts.
Netflix also said In January that it expected $50 million in operating losses in the second half of the year from its international business. But in its first-quarter earnings release last month, it revised that forecast to between $50 million and $70 million in losses.
Netflix said it was "comfortable with [the losses] given the size of the opportunity." But a large portion of last quarter's earnings report was devoted to explaining the Canada situation. Netflix called the per-gigabyte fees "excessive."
The company also noted that in March, it changed the default setting for Canadian Netflix customers to a lower-quality video that consumes 9 GB for 30 hours of viewing, versus 30-70 GB for 30 hours.
"Netflix has to roll with the punches here," says Williams. "Their compressed data workaround did help, and they're simply going to have to work within the confines that the ISPs providers put on them."
And Canada is a great testing ground, Williams adds. It's similar to the U.S. market, and the situation has forced Netflix to come up with data-cap solutions before it continues to expand internationally.
Netflix plans to expand even more: For all of its concerns about "still learning the seasonality curve and nuances specific to Canada," as Netflix said in its earnings release, the company also revealed it is planning to soon move into two more international markets.
While Netflix is spending more on international markets than analysts had predicted, Williams said it's money well spent.
"In other countries, Netflix doesn't have the same brand awareness that it does in the U.S.," Williams says. "They need to be first to market and focused, with a strategy that they're pursuing aggressively."
The international concerns haven't dented Netflix's meteoric stock rise. Shares are up 140% over the last 12 months and 37% in 2011 alone.