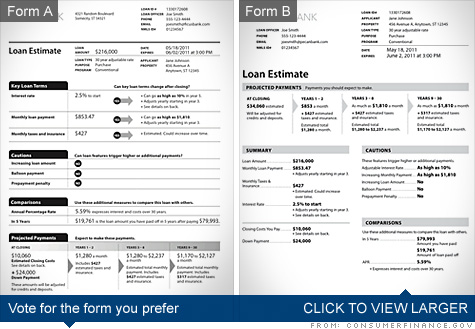 NEW YORK (CNNMoney) -- How do you know if the mortgage you're eyeing is a rip-off? You'll soon be able to find out by looking at the first -- and only -- page of your mortgage disclosure.
The Consumer Financial Protection Bureau released drafts of a new one-page (back and front) mortgage disclosure form on Wednesday, as part of its push to help consumers more easily compare and shop for mortgages.
This is an issue close to home for Elizabeth Warren, assistant to the President and special advisor to the Secretary of the Treasury on the Consumer Financial Protection Bureau, who has been pushing hard for more transparency from lenders. Warren told CNNMoney earlier this year that her biggest financial mistake was to take out a mortgage when she didn't fully understand all the fees involved.
So she hopes the new "mortgage shopping sheet" will prevent some of this confusion.
The form will combine the two mortgage disclosures that are currently required -- the federal Truth in Lending Act (TILA) mortgage disclosure and the Real Estate Settlement Procedures Act (RESPA) Good Faith Estimate -- into one form, down from five pages.
The CFPB has published two different draft prototypes that combine these documents into a single page (double-sided), in what it calls its "Know Before You Owe" project.
"Getting stuck with the wrong home loan can cost tens of thousands of dollars over the life of the loan," Warren said Wednesday, on a call with reporters.

"[This form] is a clear, simple form so consumers can get better answers to two basic questions: Can I afford this mortgage, and can I get a better deal somewhere else?"
While mortgage disclosure forms are supposed to provide consumers with basic facts about the loan, the most important information is often hidden in the multiple pages of text. The agency is hoping to boil the terms down to a single page, and organize it so consumers see the most important facts before anything else.
The two drafts published on the CFPB's website contain the same information but are displayed differently, to see if one is easier for consumers to understand.
Both versions show the key loan terms like the interest rate, monthly loan payment, closing costs and taxes. You can quickly see how much you'll be paying per month, and how those payments might change throughout the life of the loan.
The form also shows the APR you will pay over a five-year period, along with the amount you will have paid off in five years.

The new forms also caution you about whether your payments will change, or whether the loan comes with a prepayment penalty.

All the crucial facts are on the front page, while more details are on the back.
To design the forms, the agency worked with consumer advocates, regulators, industry representatives, researchers -- even graphic designers.
But don't expect to get one of the new forms from a bank any time soon.
The CFPB will conduct five rounds of testing in six different cities, before introducing an official proposed prototype in September. And the agency still has until July 2012 to propose rules relating to the form's implementation.

Over the next few months, the agency will revise and repost the form on its site based on the input it receives. Consumers can also provide feedback on the two forms by visiting http://www.consumerfinance.gov/knowbeforeyouowe/