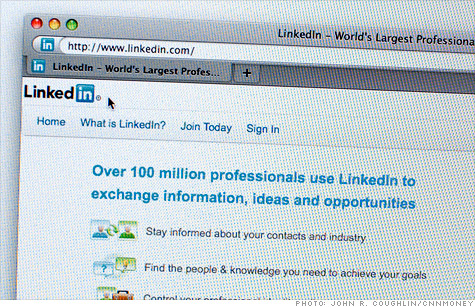 Business networking site LinkedIn now has more than 100 million users.
NEW YORK (CNNMoney) -- Business social network LinkedIn priced its initial public offering at $45 a share late Wednesday -- the high end of its range.
That share price values LinkedIn at $4.25 billion -- and would net the company more than $350 million, making it one of the largest tech IPOs since Google (GOOG, Fortune 500) in 2004.
LinkedIn will begin trading Thursday on the New York Stock Exchange under the ticker symbol "LNKD." The company raised its offering range earlier this week from $32 to $35 a share to $42 to $45 a share.
In an updated SEC filing Tuesday, LinkedIn said it turned a profit of $2.1 million on revenue of $93.9 million in the first quarter. In 2010, the company's last full fiscal year, it earned $15 million in profit on sales of $243 million.
While profitability is of course a plus, LinkedIn has had a rocky journey to get there. Prior to last year, the company had been in the red every year since its 2003 inception -- except for 2006, when it turned a slight profit on revenue of $32 million.
And as recently as spring 2009, LinkedIn valued itself at just $2.32 a share.
But the company's user base has grown rapidly. As of November, LinkedIn was adding one new user every second. It now has more than 100 million users, with more than half of its members located outside of the United States.
The company had 1,288 employees as of March 31, and most of them are new staffers. About 58% of LinkedIn employees had been with the company for less than one year, and almost 80% had been there for less than two years.
LinkedIn is one of the"Big 5" private tech companies that have attracted massive investor buzz as the tech IPO market thaws.
The other four -- Facebook, Twitter, Groupon and Zynga -- are still private. Investors will be looking to LinkedIn's stock performance as a possible indicator of when these four may also look to go public.
Meanwhile, some other splashy tech IPOs have fizzled this year. Online content company Demand Media (DMD) went public in January and rose 33% in its first day of trading. Demand shares drifted higher the next two months -- but then plummeted a whopping 30% in April.
The so-called Facebook of China, Renren (RENN), has also struggled. Shares rose 29% on its first day of trading earlier this month, but are now trading below their offering price.
Dual stock setup: LinkedIn has a dual-stock structure, which lets the company's insiders retain significant control over shareholder decisions even after others become stockholders. Google and Facebook have similar structures.
Co-founder Reid Hoffman and other executives hold Class B shares, which have 10 times the voting power of the Class A shares LinkedIn will sell to the public.
It's a method that's controversial to shareholder advocates but popular among tech startups, which want to ensure that their founders are able to execute their vision.
Who's selling shares: LinkedIn itself is selling about 4.83 million shares, and existing stockholders are selling about 3 million.
Hoffman and his wife, Michelle Yee, are selling about 115,000 shares. Even after the sale, they'll still own more than 20% of the company's stock. That will be worth more than $850 million at the $45 per share price.
The company will not receive any proceeds from the sale of shares by the stockholders.