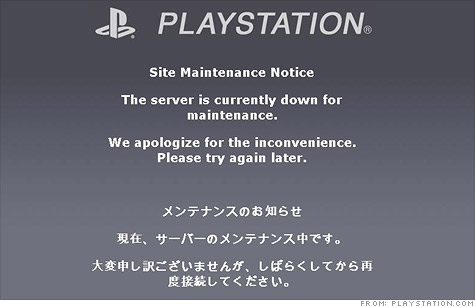 Part of the PlayStation Network was down once again Tuesday, presenting Web users with this error message.
NEW YORK (CNNMoney) -- Yet another wrinkle developed in the seemingly unending PlayStation Network saga on Wednesday, as Sony took down part of its network again due to a newfound exploit.
The security hole, which was first discovered by gaming blog Nyleveia and successfully exploited by Eurogamer, allows an attacker to reset a user's password and gain access to his or her account with an e-mail address and a birthday associated with the user's profile.
Both of those data points were among those maliciously obtained by hackers during last month's attack on Sony's video game networks.
The bug appears to only affect PlayStation Network users who are trying to log on to their accounts via the Web. Gamers can still use their PlayStations to join the network, which was finally brought back online just days ago after being down for nearly four weeks.
Sony (SNE) did not immediately respond to a request for comment on the recent development. In a blog post, a Sony spokesman said the password reset page was "temporarily" taken down and "there was no hack involved."
"In the process of resetting of passwords there was a URL exploit that we have subsequently fixed," he said.
This is just the latest in a month-long drama surrounding Sony's online gaming networks. Sony disclosed the first hack on April 22, saying that an "external intrusion" on its systems between April 17 and 19 affected its PlayStation Network and its media streaming service Qriocity. It pulled the plug on both services on April 20.
Then, on April 27, Sony announced that personal information and perhaps credit card numbers had been stolen in the PlayStation Network and Qriocity breaches. That put sensitive details at risk for a whopping 77 million customers.
On May 2, another division, Sony Online Entertainment, took its Web services offline after revealing that hackers also gained access to its databases of subscriber information.
The latest revelation was the second major security hole to be discovered on Wednesday. Researchers from Germany's Ulm University also found a bug in phones that use Google's (GOOG, Fortune 500) Android operating system. The bug allows attackers to steal users' calendar, contacts and photos over an unsecured Wi-Fi network.