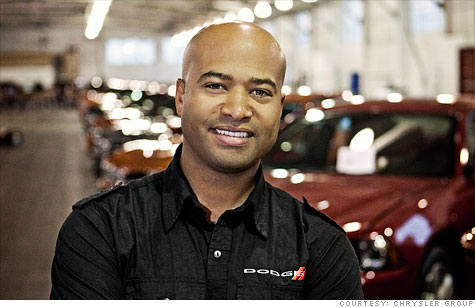 Since emerging from bankruptcy things have been intense at Chrysler, designer Ralph Gilles says, but it's been worth it.
NEW YORK (CNNMoney) -- Chrysler finally has new cars that people want to buy.
Chrysler designers and engineers have been seriously revamping nearly every Jeep, Dodge and Chrysler model to fix what had been keeping buyers away for years. In other words, they're fixing just about everything.
"If we're going to do any kind of surgery on these vehicles, we might as well do everything," said Ralph Gilles, Chrysler Group's lead designer.
That philosophy is working.Sit in a Dodge Journey, Jeep Compass or Chrysler Town & Country and you'll find a vastly different interior from last year's model. Gone are the crude, hastily slapped together interiors drivers had come to expect. The new interiors look and feel pretty nice now.
Drive one of the new cars and you'll notice big differences, too. The revamped products have better ride quality, smoother engines and transmissions, plus a greater feeling of control.
In particular, the Jeep Grand Cherokee and Dodge Durango SUVs -- both all-new vehicles that spent years, not months, in development -- are genuinely outstanding products that can go squarely up against the toughest competitors.
But getting here hasn't been easy, Gilles said.
"There's definitely been a human toll to all this," said Gilles, who is also chief executive of Chrysler Group's Dodge division. "We've worked really, really hard."
The redesigns have helped improve Chrysler sales and should help Chrysler's financial position, which was beginning to improve even before the redesigned cars hit the market. Chrysler Group plans to soon pay off the government loans that financed the carmaker's restructuring.
Plus, Gilles said, the intense work ethic learned these past months could even provide a competitive edge when designing future vehicles.
For one, he said, designers and engineers have learned to work faster. "We compressed into weeks what used to take months," he said.
Among other things, Chrysler's designers and engineers began seeking input from parts suppliers and manufacturing experts much earlier in the design process.
"We have much healthier relationships with our suppliers than we've ever had before," he said.
Fiat joined forces with Chrysler two years ago, and the work intensity that followed stood in sharp contrast to two years under the control of private equity firm Cerberus, Gilles said. Cerberus pulled Chrysler out of the former DaimlerChrysler in 2007.
"The first few months here, they talked a good game," Gilles said of Cerberus executives.
Then came the global financial meltdown.
After that, he said, work mostly stopped. Gilles' designers worked on a few vehicles that were already in the pipeline -- new versions of the Ram truck, the Grand Cherokee and the Chrysler 300 and Dodge Charger larger sedans. But there was a lot of down time. With cash short and the future uncertain it was hard to move any project forward.
"The whole place just felt strange," said Gilles. "Meetings were being canceled. It was a strange time."
The meltdown nearly killed Chrysler. Some Obama administration advisors argued against even trying to save the automaker. It was only because Fiat had agreed to partner with Chrysler -- a deal that had at least some chance of working -- that the federal government decided it was worth putting money and effort into a restructuring.
With Fiat in the picture, things began to change. Besides the intensity of the work, the biggest change was the attitude toward the products his designers were helping to create, Gilles said. No car has been deemed too unimportant to assign to be the best designers.

But there are limits to what can be done. The Chrysler 200, for instance makes a striking first impression but, the fact remains, it's an improved Chrysler Sebring. There's only so much that can be done without starting over entirely.
Even so, it's a big break from the past. The car is actually selling now.
"People are coming in specifically asking for the 200," Gilles said. "Not just a car."
The next car he's looking forward to is a small car based on Fiat engineering. That's due to hit the market early next year.
"What I like is that we're not letting up," he said.