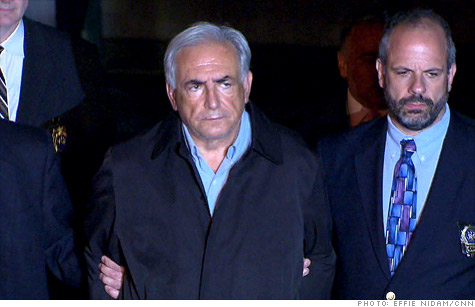 Dominique Strauss-Kahn (center) resigned as chief of the International Monetary Fund after being charged with sexual assault.
NEW YORK (CNNMoney) -- The head of the International Monetary Fund has resigned amid mounting calls that he step down after being jailed on charges he sexually assaulted a maid in his upscale hotel suite.
In a brief letter to the IMF executive board late Wednesday, Dominique Strauss-Kahn proclaimed his innocence.
He said he was stepping down to "protect this institution which I have served with honor and devotion, and especially -- especially -- I want to devote all my strength, all my time and all my energy to proving my innocence."
"To all, I want to say that I deny with the greatest possible firmness all of the allegations that have been made against me," he said.
The resignation came as his attorneys are preparing to appeal Thursday to New York's Supreme Court to release their client on bail.
He has agreed to post $1 million in cash, to be confined to home detention in Manhattan with electronic monitoring and to turn over his U.N. travel document to "eliminate any concern that Mr. Strauss-Kahn would or could leave this court's jurisdiction," attorney Shawn P. Naunton wrote in the appeal.
A tentative deal was in the works that could result in his release on bail as early as Thursday, a source close to the defense told CNN.
The appeal adds a number of conditions, including electronic monitoring, which were not in a bail request turned down Monday by a criminal court judge in Manhattan.
The appeal to the state Supreme Court describes the accused as "a loving husband and father, and a highly regarded international diplomat, lawyer, politician, economist and professor, with no prior criminal record."
It also said Strauss-Kahn has been married for more than a decade and has four children from a prior marriage, one of whom is a graduate student at Columbia University in New York.
The case has captured worldwide attention since Strauss-Kahn was pulled off an airplane last Saturday and charged with the sexual assault and attempted rape of a 32-year-old Guinean maid in his hotel suite.
His arrest has set French political circles abuzz as the international economist was widely considered the French Socialist Party's best hope to unseat President Nicolas Sarkozy in next year's elections.
Calls for Strauss-Kahn's resignation mounted in recent days.
Treasury Secretary Timothy Geithner said he was "obviously not in a position to run the IMF."
Austria's finance minister Maria Fekter urged him to step down.
"He should think about whether he is damaging the institution," Fekter said.
In his letter, Strauss-Kahn said he felt compelled to resign.
"I think at this time first of my wife -- whom I love more than anything -- of my children, of my family, of my friends," he wrote.
"I think also of my colleagues at the Fund; together we have accomplished such great things over the last three years and more."
While the search begins to replace him, John Lipsky will continue as acting managing director, the IMF said in a statement.
Prosecutors allege that a naked Strauss-Kahn, 62, chased the housekeeping employee through his Manhattan hotel suite on Saturday and sexually assaulted her.
But his attorney Benjamin Brafman disputed the allegation, saying "forensic evidence, we believe, will not be consistent with a forcible account, and we believe there is a very, very defensible case."
The IMF chief faces an array of charges, including two counts of first-degree criminal sexual act, one count of first-degree attempted rape, one count of first-degree sexual abuse, one count of second-degree unlawful imprisonment, one count of forcible touching and one count of third-degree sexual abuse.
Strauss-Kahn is accused of attacking the maid about noon, shortly before he checked out of the Sofitel.
The maid, according to a law enforcement official, followed hotel policy by putting her cart in the open doorway of the suite when she went to clean it.
After lunch, he was driven to John F. Kennedy International Airport and boarded an Air France flight, authorities said.
As he sat in first class awaiting takeoff and a planned meeting the next day with German Chancellor Angela Merkel in Berlin, followed by a meeting with European finance ministers on Monday in Brussels, his world of luxury and power came crashing down.
Police, alerted by hotel staff to the maid's accusations, ordered him off the plane and placed him in custody.
Strauss-Kahn was examined for scratches and DNA samples were taken, and investigators searched for other evidence in the suite, including possible bodily fluids from both individuals, a law enforcement official told CNN.
He consented to the testing after investigators prepared a search warrant, said the official, who spoke on condition of anonymity. The official was not authorized to release the information.