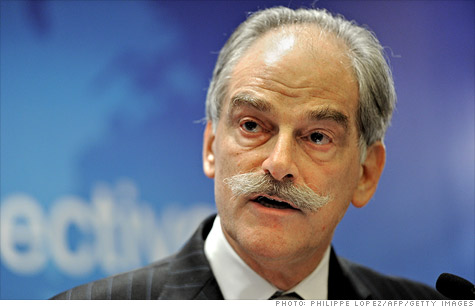 John Lipsky has been named acting director of the Intenational Monetary Fund following Dominique Strauss-Kahn's arrest in New York.
NEW YORK (CNNMoney) -- In his first comments since taking the helm of the International Monetary Fund, acting director John Lipsky urged policy makers Thursday to work together to strengthen the global economy.
Lipsky was named acting managing director of the IMF after Dominique Strauss-Kahn, a Frenchman who ran the organization for more than three years, was arrested last week in New York on sexual assault charges.
"I deeply regret the circumstances that have made it necessary for me to substitute for the fund's managing director," Lipsky said at the annual meeting of the Bretton Woods Committee in Washington.
In his speech, Lipsky outlined the challenges facing the global economy as it continues to recover from a historic financial shock and deep recession.
"Overall, the global recovery is gaining strength. But it remains fragile and uneven, and beset by uncertainties," he said. "So there is no room for complacency in dealing with the challenges that still threaten the recovery."
The IMF has worked closely with the European Union to provide billions in financial support for nations on the periphery of Europe, including Greece, Ireland and Portugal.
Last week, the IMF and European powers agreed to a $116 billion aid package for Portugal.
Greece, one of the most troubled members of the EU, received $145 billion from the IMF and EU earlier this month. Ireland tapped part of its $121 billion bailout late last year.
Lipsky said there is no easy solution to the fiscal challenges facing these economies, but he urged policy makers to enact a coordinated response.
"The only viable option for Europe today is a solution that is comprehensive and consistent -- and that is also cooperative and shared," he said.
Meanwhile, the global economic recovery has been "uneven," he said, with developed economies struggling with high unemployment and tepid growth, while rapidly expanding economies in the developing world are at risk of overheating.
This has led to imbalances in the increasingly interconnected global financial system, he added, with capital spilling over in some nations while credit remains tight in others.
"While capital flows confer many benefits, their size and volatility can exacerbate macroeconomic and financial stability risks," he said.
To help stabilize the financial system and prevent another crisis, Lipsky said the IMF and will work with the Group of 20 major economies to increase surveillance and strengthen the global financial safety net.
"As the global recovery strengthens, it might be expected that policymakers will focus more on domestic priorities, and worry less about global issues," said Lipsky. "But in our increasingly interconnected world, the two cannot be separated."
Strauss-Kahn officially resigned Wednesday in a letter sent to the IMF executive board form his jail cell on New York's Rikers Island. He said stepping down was in the best interest of the IMF, and maintained his innocence.
Lipsky, a deputy managing director at the fund since 2006, has decades of experience as an investment banker and economist at JPMorgan and Salomon Brothers.
U.S. Treasury Secretary Timothy Geithner praised the decision to appoint Lipsky acting director of the IMF, saying he "will provide able and experienced leadership to the fund at this critical time for the global economy."
"We want to see an open process that leads to a prompt succession for the fund's new managing director," Geithner said in a statement.
The main contenders to replace Strauss-Khan on a permanent basis have mostly been Europeans, including French finance minister Christine Lagarde, who has close ties to the United States.
While the IMF has traditionally been run by a European, candidates from developing countries led by China, India and Brazil may have an opportunity to take the helm.
Among the non-Europeans recently floated are Tharman Shanmugaratnam, who is Singapore's finance minister, Kemal Dervis, a Turk who is at the Brookings Institution, and Augustin Carstens, who runs the Bank of Mexico.