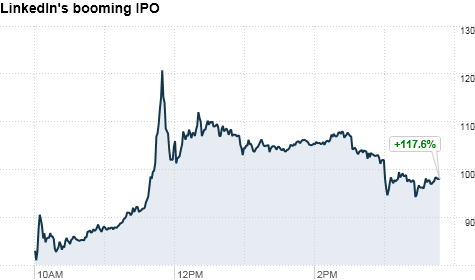 Click the chart for more on LNKD.
NEW YORK (CNNMoney) -- LinkedIn shares more than doubled in their debut Thursday, a sign that investors may be eager for other hot social networking companies to soon go public.
LinkedIn priced its initial public offering at $45 a share, the high end of its range, late Wednesday.
Shares of LinkedIn, which caters to businesses and job seekers, began trading Thursday on New York Stock Exchange under the ticker symbol LNKD (LNKD).
The stock opened at $83 and quickly rose above $90, where it stayed for most of the morning. They hit a high of $122.70 in late morning trade before slipping back to close at $94.25 a share.
At that price, LinkedIn is valued at about $9 billion. The company raised more than $350 million in its offering, making it one of the largest tech IPOs since Google (GOOG, Fortune 500) in 2004.
Max Wolff, senior analyst at GreenCrest Capital, a firm that tracks private companies, said the 7.84 million share offering was "very small and oversubscribed."
Wolff said LinkedIn's $45 per share pricing was "an aggressive but valid bet on future growth." But he's not so convinced about the resulting run-up Thursday.
"There's no standard valuation model that explains the current price," Wolff said. "It's psychological, emotional, pent-up demand for tech IPOs."
Even if the stock price cools, LinkedIn's headline-grabbing day could have positive long-term effects, Wolff said.
"Linkedin has never been the biggest story in the news, and it may never be again, but it is today," he said. "That's going to pique interest. I wouldn't be surprised if LinkedIn signs up a lot of new people in the coming weeks."
As of November, LinkedIn was adding one new user every second. It now has more than 100 million users, with more than half of its members located outside of the United States.
Road to profitability: In an updated SEC filing Tuesday, LinkedIn said it turned a profit of $2.1 million on revenue of $93.9 million in the first quarter. In 2010, the company's last full fiscal year, it earned $15 million in profit on sales of $243 million.
Prior to last year, the company had been in the red every year since its 2003 inception -- except for 2006, when it turned a slight profit on revenue of $32 million.
LinkedIn is one of the"Big 5" private tech companies that have attracted massive investor buzz as the tech IPO market thaws.
The other four -- Facebook, Twitter, Groupon and Zynga -- are still private. Investors will be looking to LinkedIn's stock performance as a possible indicator of when these four may also look to go public.
Bubble concerns: Even as LinkedIn shares surged, investors remain concerned about a tech bubble.
At a $10 billion valuation, LinkedIn is trading at nearly 670 times last year's earnings. As recently as spring 2009, LinkedIn valued itself at just $2.32 a share.
And some other splashy tech IPOs this year have started to fizzle
Online content company Demand Media (DMD) went public in January and rose 33% in its first day of trading. Demand shares drifted higher the next two months -- but then plummeted a whopping 30% in April.
The so-called Facebook of China, Renren (RENN), has also struggled. Shares rose 29% on its first day of trading earlier this month, but are now trading below their offering price.
Who's selling shares: LinkedIn itself sold about 4.83 million shares, and existing stockholders are selling about 3 million.
LinkedIn co-founder Reid Hoffman and his wife, Michelle Yee, sold about 115,000 shares. They still own more than 20% of the company's stock -- which is worth about $1.8 billion at Thursday's closing price.
The company will not receive any proceeds from the sale of shares by the stockholders.
Other large shareholders include three big names in the venture capital world: Sequoia Capital, Greylock Partners and Bessemer Venture Partners. None of those firms sold shares in the IPO.