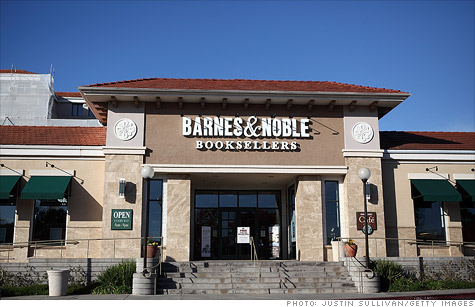 Liberty Media has offered to buy Barnes & Noble for nearly $1 billion.
NEW YORK (CNNMoney) -- Bookseller Barnes & Noble says it has received a nearly $1 billion buyout offer from Liberty Media, the parent of cable network QVC.
New York-based Barnes & Noble said late Thursday that Liberty is offering to pay $17 a share for the company, which had 57 million shares outstanding according to its most recent earnings report.
Barnes & Noble's (BKS, Fortune 500) stock shot up 25% in premarket trading, pushing the stock above $17 a share -- an indication that investors believe that negotiations between the bookseller and Liberty could produce an even higher buyout price.
The company said a special committee of its board is evaluating the proposal, which is contingent on participation by founding Barnes & Noble chairman Leonard Riggio.
Barnes & Noble is the largest operator of traditional book stores, with 705 stores in 50 states.
Liberty, run by John Malone, includes such properties as the Starz premium cable network and the Atlanta Braves baseball team.
Booksellers have been struggling to survive in a slow economy that's becoming dominated by e-books. The online retailer Amazon (AMZN, Fortune 500) recently announced that sales of e-books outpaced sales of books.
Barnes & Noble's competitor, Borders, the second-largest book store operator, has been closing stores after filing for Chapter 11 bankruptcy earlier this year.