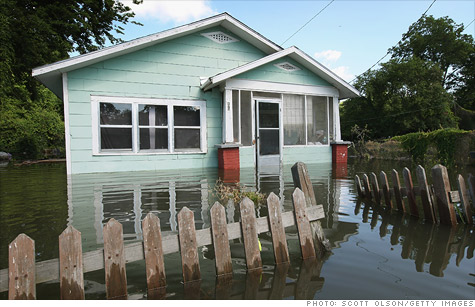 Taxpayers may be on the hook for insurance payments to homeowners devasted by this year's flooding.
NEW YORK (CNNMoney) -- For the National Flood Insurance Program, there are good years and there are bad years. This is shaping up to be a bad year.
The massive Mississippi River flooding is expected to leave behind a giant bill for the government program, which offers affordable insurance to people who live in risky areas and then backstops their claims.
And the Federal Emergency Management Agency program is nearly $18 billion in the red -- largely because of the massive flooding in 2005 caused by Hurricanes Katrina and Rita. (Oil infrastructure in flooding's path)
In a normal flood year, the program is self-supporting -- meaning that the premiums it collects from policyholders cover the claims it pays out. FEMA typically collects more than $3 billion in premiums annually. In 2010, for example, it paid out $727 million.
But when claims exceed premiums, FEMA must borrow from the Treasury Department to make up the difference. It's unclear exactly how much the 2011 flooding will end up costing the program, but experts say it's likely FEMA will have to borrow.
Adding to the pressure is the program's longer-term money problems.
The program, created in 1968, is probably in "the worst financial state it's been in," said David Conrad, an independent consultant for the environmental group Water Protection Network.
FEMA administrator Craig Fugate told lawmakers in April that "FEMA is unlikely to pay off its full debt, especially if it faces catastrophic loss years." (Floods wreak havoc to the economy)
The U.S. Government Accountability Office lays out the financial challenges facing the program.
For one, FEMA can't raise rates when it needs to. By law, the average premium increase cannot exceed 10% a year. The agency would need Congress to sign off on higher rates.
In addition, the rates in all cases don't reflect actual risk -- as do normal insurance policies. The GAO says that nearly 25% of property owners pay subsidized rates.
Finally, FEMA can't deny insurance just because a property was the subject of frequent losses.
So someone who gets hit by a flood can file a claim and then rebuild on the same property -- only to get hit again and again. And they continue to get coverage. These "repetitive loss properties" are a huge financial drain on the program. They make up only 1% of all policies but account for 25% to 30% of claim payments, according to the GAO.
FEMA acknowledges the program's precarious financial situation. However, reform could be difficult because of the size and structure of the program. The flood program has 5.6 million policies and provides $1.2 trillion in coverage. Change would require congressional approval.
Still, something must be done, experts say.
Conrad, the environmental expert, said FEMA should be allowed to charge rates that truly reflect flood risk. Not only would higher rates help ease the program's fiscal burden, they'll would also help people who live near floodplains understand the risk they're facing.
Of course, higher rates would spark controversy. For many people, the national flood program is their only option. Many private insurers don't offer primary flood insurance.
Allstate (ALL, Fortune 500), State Farm, Travelers (TRV, Fortune 500) and Liberty Mutual act as third-party providers and administer coverage through the NFIP. Higher rates could also discourage homeowners from participating.
A more emotional issue is the problem of property owners who suffer repeated losses by rebuilding on flooded out land.
Conrad said the government could offer financial support to help people move to higher ground. In many cases, the relocation doesn't have to be far away from a person's original home. It just has to be away from the water or on to higher ground. He says the time to do this is immediately after a disaster strikes when the flooded land can be turned over to the community and transformed into parks or wildlife habitats.
--Amanda Hobor is a CNN business news producer. CNN's Laurie Frankel and Meghan Dunn also contributed to this report.