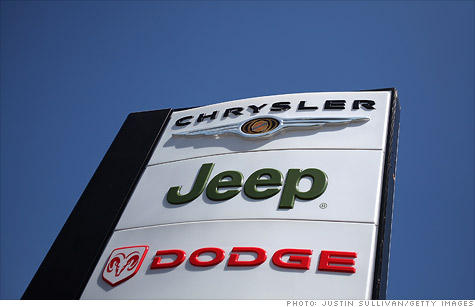 Chrysler is set to write the U.S. government a hefty check.
NEW YORK (CNNMoney) -- Chrysler has paid back $7.6 billion worth of high-interest bailout loans to the U.S. and Canadian governments, the automaker said Tuesday.
The payback included the $5.9 billion the carmaker owed in loans to U.S. taxpayers and the $1.7 billion owed to the Canadians, Chrysler said.
"The original loans were repaid in full, more than six years ahead of schedule, along with the payment of accrued interest and additional consideration," said Chrysler, in a statement.
This doesn't mean that Chrysler is debt free. In fact, the automaker took out additional loans last week to help pay off older debt. But the company said it could save $300 million in annual interest payments through refinancing.
Under its current debt structure, Chrysler is paying between 7% and 14% interest on U.S. loans and as high as 20% interest on some of its Canadian loans.
In February, Sergio Marchionne, the CEO of Chrysler and Fiat, the Italian automaker that owns a controlling stake in Chrysler, said his company needs to repay "shyster loans" to the governments. He later apologized for his comments.
Chrysler also said Tuesday that government intervention allowed the company to hire 6,000 workers.
President Obama acknowledged the workers in a statement issued Tuesday while he was visiting London.
"I was not willing to walk from the workers at Chrysler and communities relying on this iconic American company," said Obama, referring to the auto industry bailout as a "tough decision."
On May 2, Chrysler reported its first quarterly profit since 2006. In fact, Ford (F, Fortune 500) and General Motors (GM, Fortune 500) also reported profits for the first quarter, the first time since 2004 the Big Three all reported profitable quarters.
Repayment of the loans will still leave U.S. taxpayers about $2 billion short, in shares that are still held by the U.S. government. Treasury and the Canadian government will both continue to hold minority stakes in the company.
The U.S. government might be able to recoup some of that money when Chrysler holds an initial public offering later this year or next.