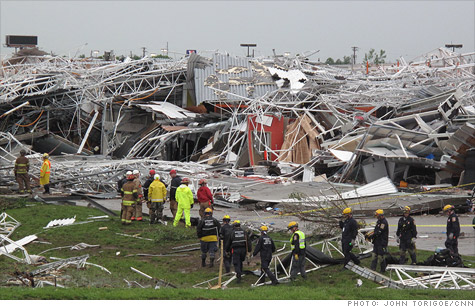 The deadly tornado that flattened much of Joplin, Mo., caused up to $3 billion worth of damage, according to an Eqecat estimate.
NEW YORK (CNNMoney) -- The tornado that devastated Joplin, Mo., killing at least 117 people, may have caused up to $3 billion in insured losses, according to an estimate from a catastrophe risk modeling firm released Tuesday.
Eqecat Inc. estimated that the tornado that flattened the city of about 50,000 people on Sunday caused from $1 billion to $3 billion worth of damage to insured buildings - including homes, businesses and factories - and automobiles, according to Jose Miranda, director of client advocacy.
Miranda said the firm based its estimate on reports that up to 2,500 buildings in the city were destroyed and up to 10,000 were damaged, in a city with an estimated 25,000 buildings.
He said the true cost of the damage is unclear, since Eqecat does not have data for uninsured losses.
The Joplin tornado is the single deadliest tornado in U.S. history, in what has been a particularly catastrophic year. So far this year, tornadoes have killed 482 people in the United States.
This year was relatively calm, as far as natural disasters are concerned, until April, when a series of three severe storms ripped through the Southern states, causing up to $5 billion worth of damage. The most serious storm featured 178 tornadoes and killed at least 300 people, many of them in Alabama.
Communities along the Mississippi River are dealing with a disaster of a different nature: severe flooding. This has prompted the U.S. Army Corps of Engineers to open spillways along the river, deliberately flooding rural areas in Louisiana in the hopes of sparing Baton Rouge and New Orleans.
This deliberate flooding could cost $2.2 billion in damage to more than 21,000 homes, according to analysis by research firm CoreLogic, which estimates that more than 2,000 homes are uninsured.
The flood has also caused further economic hardship by interrupting commerce along the Mississippi River.