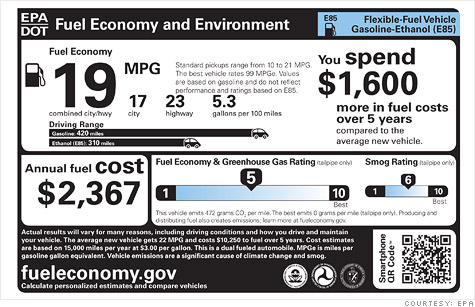 An example of the new fuel economy label design for U.S. vehicles announced Wednesday.
NEW YORK (CNNMoney) -- Potential car buyers will see new designs for fuel economy labels, reflecting the increased use of alternatives to gasoline such as electric and diesel.
The Department of Transportation and the Environmental Protection Agency unveiled the three types of new labels Wednesday. One type is for cars that use gasoline or diesel, or hybrids that use only self-generated electricity. A second is for gas and electric hybrids that use some plug-in electricity. And the third is for vehicles running strictly on plug-in power.
"The current fuel economy label that buyers have come to be familiar with has come to be outdated," EPA administrator Lisa Jackson said at a Washington, D.C., press conference.
The new labels will be required on new cars in auto dealer lots beginning with 2013 model year cars, the Transportation Department said. Automakers can begin using the new labels on 2012 model year vehicles if they wish.
Potential designs for new labels were first unveiled almost a year ago, and the agencies have been seeking comment from the public since then.
"The new labels ... are the most dramatic overhaul to fuel economy labels since the program began more than 30 years ago," the DOT said in the announcement.
No-plug cars: The new label that will go on most vehicles sold in America -- no-plug cars -- features the combined estimated city and highway fuel economy most prominently.
Also getting big play on the new label are the estimated annual fuel cost and the amount of money saved -- or spent -- in fuel over five years compared to the average new vehicle.
Also shown is the number of gallons burned to travel 100 miles and two charts rating the vehicle's greenhouse gas and smog emissions from 1 to 10, with 10 being the best.
Plug-only cars: For plug-in vehicles, fuel economy is rendered in miles per "gallon equivalent." That's how far the car goes on the equivalent amount of energy contained in one gallon of gasoline.
Also, there's the number of kilowatt hours used to travel 100 miles. The label also shows an estimate of how far the vehicle can drive on a single charge.
Plug-in hybrid cars: The most confusing new labels will go on vehicles that run both on gasoline and electricity from a plug -- such as the Chevrolet Volt by General Motors (GM, Fortune 500) and the Prius Plug-In by Toyota (TM).
For these vehicles, labels feature two boxes of numbers representing energy efficiency. One is for electric-only driving, with estimates expressed in "miles per gallon equivalent", which are the same terms used for pure-electric cars. The other box gives estimates for gasoline-only operation expressed in simple miles per gallon.
Just as for a gasoline-only car, the plug-in hybrid label contains an overall estimate of annual fuel costs -- including both gas and electricity -- and the amount saved compared to the average car. Of course, these figures could vary widely depending on how far drivers go between plugging in.
The separate information on electric and gas-powered operation, plus a graph showing electric-only and total driving range, should allow consumers to estimate how cost-effective the vehicle will be for them.
Absent from the new labels are letter grades. Last year, the EPA unveiled several possible designs for fuel economy labels in a bid to elicit public and industry feedback. One design featured prominent letter grades. Vehicles with especially good fuel economy would have gotten A. Those with very good, but not the best fuel economy, would have gotten a B, and so on.
While carmakers didn't like the letter grades, according the EPA's Jackson, consumers were the main reason the idea was dropped. In tests and surveys, about half of consumers were confused by the letter grades, thinking they represented an overall assessment of the vehicle, not just its fuel economy.
The new labels also include QR codes -- box shaped symbols that can be read by smartphones. Taking a snapshot of the QR code box using a smartphone will link car shoppers to a website where they can get more information about the car and its fuel efficiency.