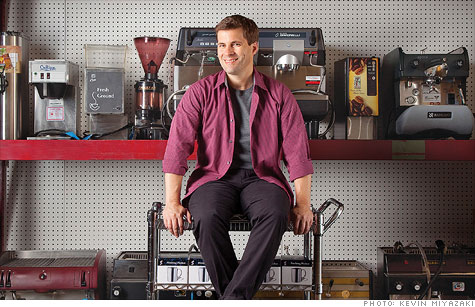 John Krech, 45, Minneapolis Then: Business team leader at 3M. Now: Inventory-management software developer.
(Money Magazine) -- While managing supply lines for 3M, John Krech realized that existing inventory-management software was using outdated financial formulas.
So around 2006, the numbers junkie began filling his bedroom walls with equations, aiming to create something better.
He quit 3M in April 2008 and by year's end introduced desktop software to help small, inventory-heavy businesses determine how much to order and when.
In 2011, he replaced that with Right On Inventory Order Management, now offered as an app for Intuit's Quick Books. (He's applied for a patent.)
Given demand so far -- and Brighton's price of $30 per user per month -- Krech expects revenue to leap from $126,000 in 2010 to $500,000 this year; he hopes to pay himself $100,000, nearly matching his old salary.
"Solving a problem by creating something has been tremendous," he says. "I've found my calling."
How he did it
1. By drawing on his nest egg.
Krech figured he'd need $350,000 to get off the ground. But potential investors wanted too big a stake, and loans were hard to come by.
So he emptied his 401(ok), despite a hefty tax bill, a 10% penalty, and the risks to his retirement.
2. By living sparely.
A divorced dad of two, Krech cut personal expenses by 40%, which included selling his house and moving in with his fiancee.
Send us your career questions.
He reasons he's "living for a few years like most people won't, so I can live the rest of my life like most people can't."
3. By building on a successful platform.
Creating a Quick Books app provided him access to a ready-made audience. And the monthly fee regulates revenue.
Besides, he notes, "by positioning myself with Intuit, I'm in a position to be an attractive acquisition."