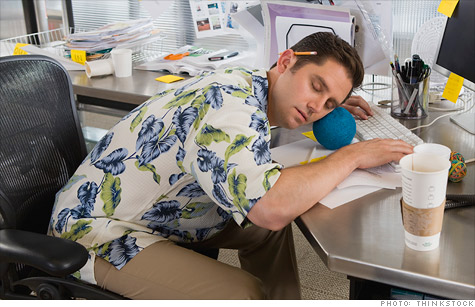 NEW YORK (CNNMoney) -- All work and no play may as well be the American way.
Not only do American workers get less vacation time than workers in other industrialized countries, but they also opt to take fewer days off.
The average employed American worker got 18 vacation days last year, but only used 14 of those desirable days off, according to a 2010 survey by Expedia.com.
Alternatively, workers in France got 37 vacation days last year and used 35 of them while the average worker in Great Britain received 28 vacation days and took 25, Expedia said.
Meanwhile, those four forfeited days of vacation per person add up quickly. Altogether, Americans gave up 448 million earned but unused vacation days in 2010. Considering the average wage of $39,208 for a full-time worker -- that's $67.5 billion worth of time.
But actually using those days may cost even more, noted Scott Spiker, CEO of First Command Financial Services, a financial service provider.
"Vacations tend to suck up money. They tempt people to spend more, save less and take on more debt. By forfeiting some of their vacation days, Americans are trying to eliminate the temptation to spend money," Spiker said.

Only 38% of Americans said that they take all of their vacation days, according to the Expedia survey, with most only using a small portion of the coveted benefit.
Some workers say their bosses are not very supportive of them using their vacation time, others simply can't swing it.
That's the case for Mike O'Neill, an energy policy analyst with mid-sized law firm in Washington, D.C. Part of O'Neill's responsibilities include writing a daily blog for the firm. "I'm the only person who does this so I do try to avoid being out of the office," he said.
On the heels of the Great Recession, unemployment remains high. "Headcount is so low, salaried employees are probably doing a job-and-a-half minimum, maybe two jobs, and they can't get away," noted Mickey Kampsen, president of MRINetwork's Management Recruiters of Charlottesville.
"They are trying to bring as much value as possible to their company in order to keep their job," she said. "You've got to show you are one of the loyal soldiers."
And even when Americans do take time off, a whopping 72% of workers said they check in with the office at least occasionally -- if not every day, according to a recent poll from Rasmussen Reports.