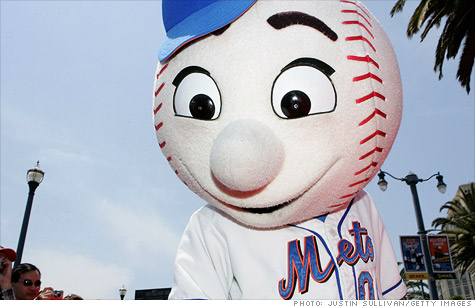 The New York Mets, represented by their mascot Mr. Met, could be getting a $200 million cash injection from investor David Einhorn.
NEW YORK (CNNMoney) -- The New York Mets announced Thursday that it will negotiate with investor David Einhorn for a $200 million minority stake in the financially beleaguered baseball team.
Any deal to sell the minority stake to Einhorn, the president of hedge fund Greenlight Capital, is subject to approval by Major League Baseball. The deal would not give Einhorn any official say in how the franchise operates and he would not reveal the percentage of his potential stake.
"The management isn't going to change here," said Einhorn, in a conference call with reporters. "I'm making a minority investment."
Describing himself as a lifelong fan, Einhorn said that investing in the Mets would be "exciting beyond my wildest childhood dreams." He also said that this would be a personal investment, with no connection to his fund.
"I have no plans to sell this investment," he said, noting that the deal should be finalized by late June. "I plan to hold it for a very long time."
He said that deal does not include SNY, the cable television station of the Mets, and that he has no interest in pursuing the station as an investment.
Einhorn, 42, co-founded Greenlight Capital in 1996 and is chairman of Greenlight Capital Re (GLRE). He also authored a Wall Street expose called "Fooling Some of the People All of the Time," which was published in 2010.
He is also a philanthropist, once donating about $660,000 in poker winnings to the Michael J. Fox Foundation to fund research on Parkinson's disease.
Financially, at least, the Mets have seen better days. Wilpon and his partner, brother-in-law Saul Katz, lost millions of dollars through their investment in what turned out to be Bernard Madoff's Ponzi scheme.
They also face a $1 billion lawsuit from court-appointed Madoff case trustee Irving Picard because of profits they were able to extract from their investment.
A New Yorker magazine article published earlier in the week highlighted Wilpon's battle against Picard, including quotes from Madoff himself saying Wilpon and Katz knew nothing about his operations. The article was also notable for negative comments Wilpon made about the team and three of its star players, David Wright, Jose Reyes and Carlos Beltran.
Wilpon recently told Sports Illustrated that the Mets are "bleeding cash" and could lose up to $70 million this year. Also, he said the Mets are carrying $427 million in debt.
"David's investment immediately improves the franchise's financial position," said Mets Chief Executive Fred Wilpon, in a press release. "Equally important, David's intelligence, integrity and success in both business and civic affairs provides us with another perspective in evaluating what is best for this organization and our fans, and we welcome his input."
Einhorn said that he wasn't worried about the financial status of the team.
"The financial reward will take care of itself over time," he said.
--CNN's David Close contributed to this story.