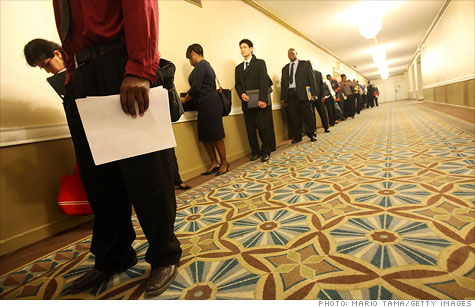 Job seekers line up to at a job fair in New York City.
NEW YORK (CNNMoney) -- More Americans filed for their first week of jobless benefits last week, marking the seventh straight week in which more than 400,000 people have been added to the unemployment rolls.
In the week ended May 21, 424,000 Americans filed for their first week of unemployment benefits, the Labor Department said Thursday.
That marked an increase of 10,000 from the revised 414,000 initial claims filed the week before, and defied economists' forecasts for 400,000 claims.
Economists look to the weekly initial claims numbers for signs of strength in the job market. When the number fell to 375,000 in February, the lowest level in nearly two years, it was seen as encouraging sign. But since then initial claims have struggled to continue on a downward path, and the figure has chopped around above the 400,000 level for seven straight weeks.
"Ultimately, this is reflective of modest weakening in the job market," said Tim Quinlan, economist with Wells Fargo Securities. "You can have 400,000 people a week go into the unemployment office and still have job growth, but it's not likely to be the kind of job growth that brings the unemployment rate down."
In the years between the 2001 recession and the latest financial crisis, weekly initial claims hovered mostly in the 300,000s, and the economy saw substantial job growth.
The number of Americans filing for ongoing claims fell 46,000 to 3,690,000 in the week ended May 14, the latest data available.
Florida, Georgia, New Mexico and Idaho saw the largest increases in initial claims during that week. California, Michigan, New York, Alabama and Wisconsin had the biggest improvement.