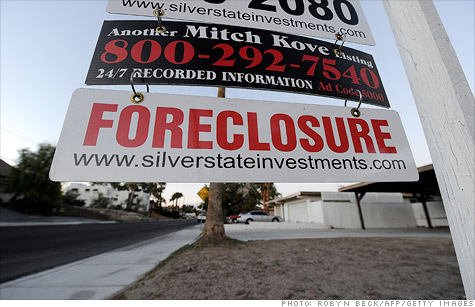 NEW YORK (CNNMoney) -- There's a three-year inventory of homes in foreclosure for sale, and that's devastating home prices.
Las Vegas has so many foreclosures that 53% of all the homes sold in Nevada are in some stage of foreclosure, according to a report from RealtyTrac, the online marketer of foreclosed properties.
Foreclosures represent 45% of sales in California and Arizona, and 28% of all existing home sales during the first three months of 2011.
"This is very bad for the economy," said Rick Sharga, a spokesman for RealtyTrac.
What's more, the homes are selling at steep discounts, especially so-called REOs, bank-owned homes that have been taken in foreclosure procedures.
The average REO cost on average about 35% less than comparable properties, according to RealtyTrac.
But in some areas, the discounts were ever greater: In New York State, the discount for REOs was 53% during the first quarter. And it was nearly 50% in Illinois, Ohio, and Wisconsin.
Also weighing on market prices are "short sales," homes where the selling price is less than what is owed by the borrowers. These sales sold at an average 9% discount.
Including both REOs and short sales, Ohio had the biggest discount of any state, at 41%.
There were 158,000 deals involving distressed properties nationwide during the first quarter, less than half the nearly 350,000 during the same period two years earlier.
With the slowed sales pace, it will take three years to burn through the inventory of 1.9 million distressed properties, according to Sharga.
"Even if you look at REOs alone, it will take 24 months to clear them and that's without any new foreclosures at all coming into the system," said Sharga.