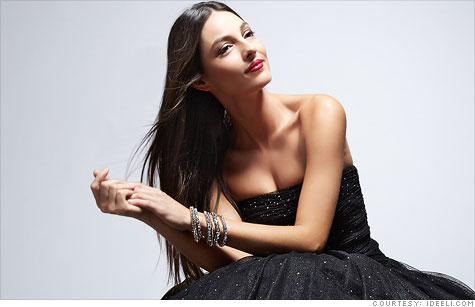 Ideeli, one of the popular flash sale sites, sells designer duds at deep discounts for limited-time periods.
NEW YORK (CNNMoney) -- Online retailers that offer luxury items at deep discounts have created a billion-dollar industry in a flash.
In 2007, as the economy tanked and the demand for luxury clothing and accessories dove south with it, a new market emerged online. An online retailer called Gilt Groupe started selling high-end merchandise on its members-only site and ignited a fuse that has exploded into one of the fastest growing trends online: flash sales.
Flash sales are limited-time sales featuring designer brands at bargain prices. Today, sites that offer flash sales to its members are growing quickly.
''We're moving in 36 hours what a retailer moves in two weeks," said Becky Wisdom, head of public relations for ideeli.com.
Ideeli.com is one of the four popular luxury discount sites that include Gilt Groupe, HauteLook and Rue La La, according to eMarketer.com. Just this month, online retail giant Amazon threw its hat into the ring by launching its own flash sale site called MyHabit.com.
The e-commerce phenomenon centers on a basic principle: Create exclusivity and demand by limiting what you sell and for how long.
When Gilt started offering Dolce & Gabbana at 70 percent off the retail price during the height of the recession, fashionistas swarmed the site.
The consumer's competitive urge to beat the clock and other shoppers before a coveted designer sold out created the kind of frenzy typically seen at sample sales. Membership to the sites is free, but sales are still considered ''private.''
Originally flash sales were created to clear inventory, said Wisdom. But the trend is ''sticking around post-recession, because it's a way for brands to build their revenue and brand recognition.''
Today, flash sale shopping sites have cultivated a loyal following, said Wisdom. The range of products offered has diversified from fashion to frying pans and other home goods. Ideeli.com's site visits since 2010 have gone up 150 percent while its membership has tripled to more than 4 million.
Last year, flash sale sites raked in $1 billion in sales, according to comScore, an online research marketing firm. And analysts from BIA/Kelsey, a research firm, predict that by 2015, the category will net $6 billion.
''We're growing incredibly fast, just shockingly fast,'' said Paul Hurley, CEO of ideeli.com.
Jobs at the small business also tripled during the same time frame. The company expects to make more hires this year. Last month, ideeli.com received $41 million in financing from investors.
''With the tail winds we have behind us, we'll be a $3 billion business in 10 years and, frankly, getting to a billion, we're gonna do that in very short order,'' said Hurley.
Who's buying?
Fashionistas who developed a penchant for private sales and bargain-hunters alike became loyal customers.
Luxury goods opened up the space. But other products drawing other consumers have emerged. Ideeli's target demographic is the single 20-something and the working mom.
It's a combination of consumer psychology and brand strategy that has led to their high-velocity sales, said Hurley.
''Selling a product at a discount everyday is not good for brands. If everything's 20% off everyday, then the right price is 20% off,'' said Hurley. ''Because it's limited time, because sometimes it sells out, it has the perception of scarcity.''